"European Central Banks Are Considering Cryptocurrency Regulations" Austria's Central Bank President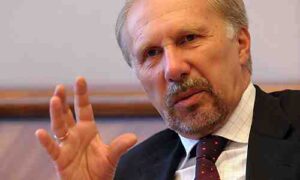 Ewald Nowotny, the current president and governor of Austria's central bank, the National Bank of Austria (NBA), and a member of the European Central Bank's governing council, recently stated at a conference in Florence, Italy that central bankers and legislators in Europe are looking into cryptocurrency regulations.
"We're asking ourselves if legislators or central banks should intervene, as happened in China where they banned (the use of cryptocurrencies) because they consider them fraudulent," Nowotny stated.
The ECB council member's comments referred to China's ban on Initial Coin Offerings (ICOs) then further restriction on cryptocurrency trading in the country, which forced exchanges to shut down. As a result, over-the-counter peer-to-peer trading using services like Telegram has arisen as a popular alternative. China's move is aimed to control capital within the country after a strong growth in cryptocurrency investment this year with ICOs which the country has stated that a majority were frauds with nothing more than a whitepaper.
However, the cryptocurrency ecosystem's growth doesn't affect Nowotny, who downplayed the potential risk Bitcoin and other cryptocurrencies may represent for the wider financial system, as he stated the market "is not so large" and, as such, "cannot create financial instability."
Despite the leader of the IMF central bank Christine Lagarde warning central bankers not to dismiss cryptocurrency last month.
Central bankers recently met in New York City for a Ripple event so it's likely we will continue to see them push FUD against Bitcoin a currency they have no control, or governance over.
Within the last few months, Bitcoin's value has surged steaming toward that 10K prediction by the end of the year that many cryptocurrency enthusiasts feel Bitcoin is heading towards.
So much so that Bitcoin recently hit a new all-time high above $8200; as a result, the first cryptocurrency's market cap hit $137 Billion dollars. It's hard to tell how high Bitcoin will go before a correction, as in the beginning of the year it wasn't even $1,000 per coin. Bitcoin has faced a volatile roller coaster that doesn't seem like it is ending anytime soon.
Nowotny further added that investors need to understand the product, as "it is like buying shares on the bourse stock market… people investing in this product can suffer losses and if that happens, they simply have to accept it."
Earlier this year, in an interview with a regional newspaper, Nowotny stated that Bitcoin isn't a currency because of its instability while pointing out the central bank didn't prohibit cryptocurrencies. At the time, Nowotny did point out investors should be aware of what they're getting into, as in the past "there have always been cases where such things have burst."
Bitcoin is currently trading at [FIAT: $8,231.87] according to Coin Market Cap at the time of this writing.
Want an edge in the crypto markets? Subscribe to our free newsletter. Follow Coinivore on Facebook, at Twitter, and at Steemit.