Video Game Giant Valve Announces They Will End Bitcoin Payments Due To High Fees & Long Block Confirmation Times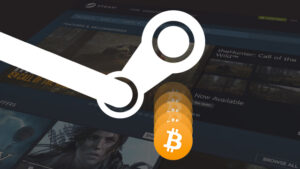 Video game giant Valve has suspended accepting Bitcoin payments from its online store. Steam will no longer support Bitcoin as a payment option due to high volatility and ever-increasing transaction fees and long block confirmation times on the Bitcoin network.
The announcement came in a blog post on Steam yesterday, Valve notes that some of its customers' Bitcoin transactions have seen fees as high as $20, compared to the original $0.20 when Bitcoin support was first added. In an effort to prevent customers from wasting money on fees and to protect itself from volatility, Valve has simply decided to remove Bitcoin as an option during checkout.
What that means as a result is that Bitcoin can longer be used to purchase digital items on the platform's internal marketplace and resell them as many Bitcoiners were doing with Counter-Strike Global Offensive's in-game digital items.
The other reason that Valve decided to remove Bitcoin from its payment processor is the volatility of Bitcoin posed a problem for issuing its customers' refunds. After giving customers a payment window due to Bitcoin's slow confirmation times sometimes taking several hours for their transaction to confirm on the Bitcoin blockchain, the value of the coin had significantly changed.
So when a gamer requested a refund, it left a gray area as to whether they should refund the U.S. dollar equivalent of their transaction or if they should give back their value in Bitcoin which could be more or less depending on the price swing.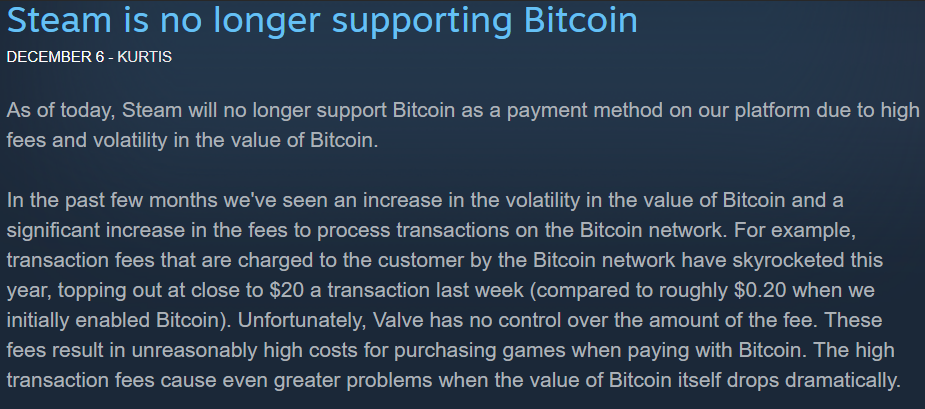 Steam's original policy was to refund the original payment method back to the buyer or request additional Bitcoin to cover the change in value. This created a poor user experience and also had the side effect of requiring the buyer to pay a second Bitcoin network fee when sending additional cryptocurrency.
However, Valve states it is not necessarily done with cryptocurrency even though it has removed Bitcoin as a payment option. "We may re-evaluate whether Bitcoin makes sense for us and for the Steam community at a later date." Newer cryptocurrencies such as Bitcoin Cash, Ethereum and Litecoin all offer much lower transaction fees and faster confirmation times than Bitcoin.
Maybe Valve should consider adding CoinPayments, a service that allows over 65 cryptocurrencies to be used for purchases instead of just Bitcoin for 0.50% fee. While maybe, in contrast, Bitcoin Core can finally learn from this and understand that their fees are too damn high; a $20 fee is ridiculous and is worse than having to pay tax. Bitcoin can't have high fees if it is to become a worldwide "peer-to-peer electronic cash system" as Satoshi Nakamoto's vision entailed.
Bitcoin is currently trading at [FIAT: $16,250.40] according to Coin Market Cap at the time of this report.
Want an edge in the crypto markets? Subscribe to our free newsletter. Follow Coinivore on Facebook, at Twitter and Steemit.