Strip Club In Sin City Accepts Bitcoin; BitPay Bans Adult Content
Posted On February 28, 2018
---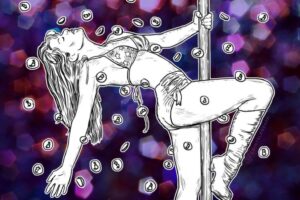 A Las Vegas strip club called the Legends Room is accepting Bitcoin for patrons at the nightclub to pay the ladies stripping in the gentleman's club. This may not be what everyone hoped for mainstream adoption but it's a step forward to show that Bitcoin can be used for discreet peer-to-peer payments.
The local news station CBS 8, Las Vegas Now interviewed the founder, Nick Blomgren, as well as several of the adult dancers at the business. They even explained how visitors can use the in-house Bitcoin ATM to buy cryptocurrency at the club. Furthermore, the dancers can choose to wear temporary QR code tattoos as wallet addresses that can be scanned via a smartphone.
"We came up with an idea probably about a year and a half ago of how we could turn this bitcoin into something. So we were brainstorming. First, we were thinking about a fight company because I own a mixed martial arts gym," Blomgren said.
Those working at the strip club have been very enthusiastic about accepting Bitcoin and other cryptocurrencies.
When asked how often customers want to pay with Bitcoin, Brenna Sparks a stripper at the club responded: "Oh, quite often. Like the people that come here, they are like really into crypto. I feel like it's very smart. They are really into that." She says she likes checking her balance a lot, "It's fun though. Once you invest, it becomes an everyday thing." The 26-year-old dancer became interested in cryptocurrency when she was just 19. Now she and her friends think cryptocurrency may be the future for adult entertainment workers. "It's peer to peer. It's anonymous, and it's instant," Sparks said.
"When I first heard about the concept, I thought wow this is really something different, you know," DJ Saint Clare said, who gets part of her salary in cryptocurrency.
Las Vegas isn't the only strip club getting in on the Bitcoin action.
In 2014 Coin Telegraph reported another club in Tampa, Florida called 2001 Odyssey partnered with Bitcoin merchant processor BitPay to create the "Make it Rain" Machine," which allows the club's online patrons to remotely release physical cash that rains down on strippers as they perform while paying in BTC.
BitPay recently banned these activities from its service updating its Terms of Use agreement on February 2nd. In the terms, the company writes the new agreement bans the sale of explicit sexual content.
Besides adult entertainment the agreement further prohibits sales of narcotics, research chemicals or any controlled substances; cash or cash equivalents, and virtual currencies; items that infringe or violate any intellectual property rights; ammunition, firearms, explosives (including fireworks) or weapons; transactions that show the personal information of third parties; transactions that support pyramid, Ponzi, or other "get rich quick" schemes; transactions that are related to cloud-mining; credit repair or debt settlement services; any services which compete with Bitpay; and the sales of Kratom or Nootropics.
Bitcoin is currently trading at [FIAT: $10,563.90] -1.27% according to Coin Market Cap at the time of this report.
Want an edge in the crypto markets? Subscribe to our free newsletter. Follow Coinivore on Facebook, at Twitter and Steemit.
Image credits: www.cointelegraph.com
---
You may also like