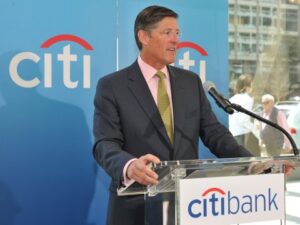 Citigroup Bank CEO Michael Corbat recently predicted that Bitcoin's threat to the financial system will lead to state-sponsored digital currencies, as governments will have no choice but to play catch-up with cryptocurrency. The comments were made during an interview with Bloomberg at The Year Ahead summit in New York.
According to the CEO, governments won't take the disruption caused by Bitcoin and other cryptocurrencies and will soon strike back with their own digital currencies.
"I don't think governments are going to take lightly other people coming in and potentially disrupting their abilities around data, around tax collection, around money laundering, around know-your-customer."
Focusing on Bitcoin's ability to bypass various protections financial institutions built, Corbat added that we're likely going to see governments introduce digital currencies of their own – he noted that "cryptocurrencies" would be a bad name to state-sponsored tokens, which the Chinese have also expressed.
During the interview, Corbat encouraged the public to buy cryptocurrencies and to try and use them in their everyday lives, only to find they are still "pretty clunky." However, just like most of Wall Street executives, Corbat argued that the underlying blockchain technology has potential and shouldn't be easily dismissed by the population yet.
This comes as Citibank, has begun experimenting with its own cryptocurrency, entitled Citicoin, which is meant to reduce friction in foreign exchange markets transactions throughout the world. According to Bloomberg, the company is also partnered with Nasdaq to use blockchain technology in private share trading.
So here we see the mainstream adoption of cryptocurrencies into everyday life as the Fintech industry expands its horizons with its eyes on changing the monetary system and in general how the world functions through the use of blockchain technology. Ripple recently held a blockchain summit in New York called the Central Bank Summit on Blockchain.
Meanwhile, central bank IMF director Christine Lagarde has repeatedly warned central bankers and bankers of the world not to underestimate cryptocurrency.
Bitcoin is currently trading at [FIAT: $8,186.77] at the time of this report according to Coin Market Cap.
Want an edge in the crypto markets? Subscribe to our free newsletter. Follow Coinivore on Facebook, at Twitter, and at Steemit.