Hong Kong Cryptocurrency Entrepreneur Creates CashCow Coin To Help Farmers
Hong Kong Bitcoin entrepreneur James Bang seeks an increase of profit for Indonesian farmers from sale of their cattle from 20 percent to 33 percent on the sale price, creating an Ethereum blockchain-based cryptocurrency Cash Cow Coin, South China Morning Post reported.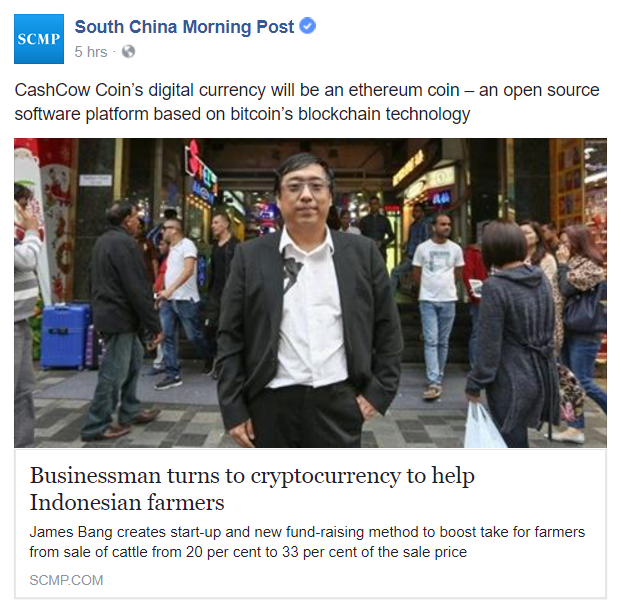 Indonesian cattle farmers sell their cattle for up to $15,600, but most only receive a portion of the full price offering, while financiers who pay for the full cost of the animal but not its care keep 80%, creating a problem.
So Bang set out to establish a solution, "CashCow Coin" running an Initial Coin Offering (ICO) to setup his cryptocurrency to help the farmers of Indonesia.
Bang decided to use his knowledge of cryptocurrency virtual tokens to find a way for farmers to keep more money from sales of their cows. He aims to change that "I figured how can we apply this to the agricultural industry … There had to be a way these farmers could maximize their extra farm space," Bang told SCMP.
"I was really inspired by Airbnb," Bang said, referencing the online community marketplace which allows people to rent out their homes as a hotel or for someone to find a quick place to stay.
Bang hopes to raise at least U.S. $15 million through the ICO which is set for launch in October later this year. CashCow Coin's ICO will fund the purchase of calves for farmers.
Bang's plan is to give 33 percent to farmers and 33 percent to investors while his start-up will keep the remaining third percent to purchase more cattle and build enclosures for them.
Through start-ups like this, we can see what is truly possible using Ethereum's smart contract platform to solve problems. We hope to see many more solutions to the world's obstacles using cryptocurrency in the near future.