NASDAQ Exchange Will Launch Bitcoin Futures by Mid 2018; As IRS Crack Down On Coinbase Causes Crypto Bloodbath
Posted On November 30, 2017
---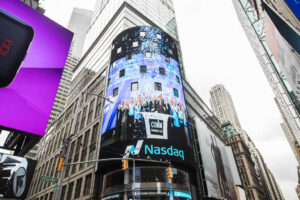 The second largest stock exchange in the world, the National Association of Securities Dealers Automated Quotations (Nasdaq) will start offering Bitcoin futures by the middle of next year, Wall Street Journal reported.
Cantor Fitzgerald LP will provide Bitcoin derivatives on its exchange by mid-2018, News Bitcoin reported. This news comes as Chicago Mercantile Exchange (CME group) and Cboe are also reportedly set to offer a Bitcoin futures market next month. Additionally, another Bitcoin futures exchange is planned by LedgerX which has already been approved and regulated by the U.S. Commodities and Futures Trading Commission (CFTC).
This combination could mean the official mainstreaming of the world's most popular cryptocurrency Bitcoin is underway.
"The emergence of Bitcoin futures would be a big step toward maturity for the cryptocurrency, which is less than a decade old. By letting traders bet on whether Bitcoin rises or falls, a futures market would make it easier for both big banks and retail investors to trade Bitcoin," Stephanie Yang and Alexander Osipovich wrote.

"Nasdaq's Bitcoin contract would debut on Nasdaq Futures, or NFX," Yang and Osipovich added. "NFX is "a marketplace that the New York-based exchange group launched in 2015 that until now has mainly focused on energy trading, according to the people familiar with the situation."
Nasdaq and CME group have long competed against each other on the futures markets so its no surprise they would challenge each other in the cryptosphere for dominance as well.
"The asset class is not going away. If you look at the next level, it will be the institutions coming in and being the larger participants in the marketplace, especially as liquidity gets better," Cantor's brokerage chief, Shawn Matthews, explained during an interview.
Though not known for its futures trading, Cantor has an advantage in that it already holds a license from the industry regulator, the Commodity Futures Trading Commission (CFTC).
"The firm aims to launch a Bitcoin swap—a type of derivative—on Cantor Futures Exchange LP. Cantor's swap would allow traders to bet on Bitcoin prices up to three months out, with built-in protections to limit their losses if Bitcoin prices swung above $15,000 or below $5,000," the Journal wrote.
You would think that news of Bitcoin futures would have Bitcoin surging to pass its recently hit $10,000 milestone but you would be wrong because in crypto, just like the stock market, negative news also affects the price. Another factor that may be affecting the markets is a court decision on Coinbase and the IRS.
Yesterday, a California court ruled in favor of the IRS, almost a year after the case was first filed. The IRS now seeks 14,355 account holders who bought, sold, sent, or received more than $20,000 of cryptocurrency between 2013 and 2015. The IRS filing specifies "far fewer, but still more than 10,000, Coinbase account holders," the summoning reads.
Coinbase expressed partial victory in a blogpost, noting that close to half a million customers' records were preserved from disclosure to the tax man.
"Thanks to Coinbase's efforts, more than 480,000 customers' records were preserved from disclosure. This is a 97% reduction in the number of customers impacted by this summons. Second, the quantity of data we must produce for the approximately 14,000 customers who remain in scope has been significantly reduced."
Bitcoin is currently trading at [FIAT: $9,778.60] with a majority of alt coins also in the red as well with very few experiencing gains, according to Coin Market Cap at the time of this writing.
Want an edge in the crypto markets? Subscribe to our free newsletter. Follow Coinivore on Facebook, at Twitter and Steemit.
---
You may also like