Down 22%: Bitcoin Plunges — Future Challenged Due To Scalability Amid Clogged Network; Talks Of Regulations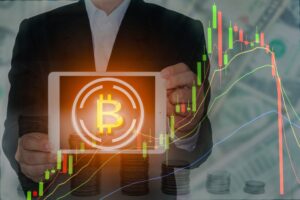 Bitcoin's price fell by more than 22 percent from $17,000 to $13,300. Market analysts have attributed the fall to the rapid surge in the price of Bitcoin over the past month from the anticipation of Bitcoin futures; other factors at play may include Coinbase adding Bitcoin Cash, Legacy Bitcoin Core's Rival and more news that might have affected the trading price.
Further key events that may be affecting the price of Bitcoin is talk of regulations all over from the Philippines, to Russia, to the UK, and other European Union countries.
The Philippine central bank, Bangko Sentral ng Pilipinas (BSP), and the country's regulators are planning to create regulatory guidelines for Philippine businesses and exchanges who deal with cryptocurrency digital assets like Bitcoin, Bitcoin News reported.
It has also been reported that Russia's own drafted regulation for cryptocurrencies will be made public for consideration for law on December 28th according to Russian media sources RIA and TASS. The news publications cited comments from lawmaker Anatoly Aksakov, who is the chair of the State Duma's financial markets committee, with the rules expected to pass by early next year.
"I expect that the adoption of the draft law on cryptocurrencies will be in March… The problem is that we already have a lot of people who acquire cryptocurrencies and they are deceived, we need to give people the opportunity to work legally with it, to protect them as much as possible," Anatoly Aksakov said.
The European Commission is also keeping a close eye on Bitcoin markets, urging EU banking and markets watchdogs to issue risk warnings to investors in cryptocurrencies, with its Vice President  Valdis Dombrovskis stating Bitcoin "had the authorities full attention."
As Coinivore previously reported, the European Union itself has announced legislation for tighter controls on the world's most popular cryptocurrency, Bitcoin, through trading exchanges and related businesses.
The European Union updated its landmark 2015 legislation, Fourth Anti-Money Laundering Directive, to include Bitcoin and related cryptocurrency businesses including wallets and exchanges after its two-year-old creation requiring company owners to register for easier access by EU authorities.
As a result, Bitcoin exchange platforms and 'wallet' providers that hold Bitcoin for clients will be required to identify their users.
Earlier this month, the UK Treasury announced plans to regulate Bitcoin and other cryptocurrencies that also stated cryptocurrency traders would be forced to disclose their identities and report suspicious activity. While committee member John Mann said that the new rules will also be applied across European Union countries and "are expected to come into force by the end of the year or early in 2018, the minister in charge has said."
To understand the difference between regulations and banning Bitcoin see this article.
Then there is the fact Bitcoin increased by more than 91 percent over the past month due to some Bitcoin futures trading firms opening shop and other banks denying customers of those contracts, so a 22% correction is expected.
Another reason we may see such a pullback in Bitcoin's price is Coin Market Cap's indicator of BTC Dominance is falling and Alt Coins are rising and taking over.
Finally, the last key factor that may be causing crypto enthusiasts to feel more bearish on Bitcoin is the fact the network has experienced a heavy volume of transactions causing a network clog exposing Bitcoin's scalability issues with small blocks, questioning its usefulness as a "decentralized storage of wealth and peer-to-peer payment system."
There are high fees and slow wait times for confirmation of blocks due to network traffic of new Bitcoin investors pouring in droves in a display of FOMO.
Several exchanges including Changelly and Shapeshift have posted notices on their website stating that Bitcoin transaction confirmation times may take a few hours due to the heavy load on the blockchain and if you don't have to send Bitcoin use another alternative cryptocurrency.
Blockchain.info shows that there are currently 288594 Unconfirmed Transactions and rising on the Bitcoin blockchain.
All of this combined may be causing the cryptosphere to be a bit bearish instead of bullish at the moment towards Bitcoin, while taking holdings in BTC and putting them into smaller market cap altcoins.
Bitcoin is currently trading at [FIAT: $13,857.60] starting to recover to the $14,000 mark, while its rival Bitcoin Cash is trading at [FIAT: $2,643.72] at the time of this report according to Coin Market Cap.
Want an edge in the crypto markets? Subscribe to our free newsletter. Follow Coinivore on Facebook, at Twitter and Steemit.