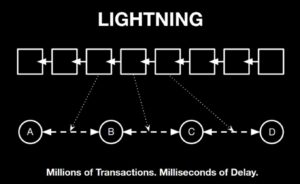 The past few weeks Bitcoin has seen an overwhelming amount of transactions causing the network to be clogged due to scalability issues and Bitcoin Core's constant stubbornness to fix it. But there is light at the end of the tunnel and it comes in the form of Lightning.
The first transaction using Bitcoin to make a payment on the Lighting network has recently been completed via mobile service Bitrefill, News Bitcoin reported.
Software developer Alex Bosworth revealed to the publication that he successfully completed the first lightning Bitcoin mainnet (not a testing environment) transaction for an online purchase using Bitrefill. Bosworth used the service and Bitcoin to pay his own phone bill with no fees, which executed instantly. Bitrefill is an online service that enables users to use Bitcoin and Litecoin to pay their prepaid mobile phone plans with over 600 operators across 150 countries.
Mainnet Lightning Network paying my actual phone bill with actual Mainnet funds on @bitrefill. Speed: Instant. Fee: Zero. Future: Almost Here. pic.twitter.com/futhn502Lp

— Alex Bosworth (@alexbosworth) December 28, 2017
The Lightning Network has been in development for a few years already. The protocol creates an off-chain system by forming a network of payment channels where funds are not entrusted to a third party. Lightning promises to scale Bitcoin by allowing thousands of transactions per second without compromising Bitcoin's trustless structure.
The network is built on the payment principles that were envisioned by Bitcoin creator Satoshi Nakamoto in the early days of the project's development.
Lightning's use of payment channels effectively allows users to transact with each other directly rather than broadcasting their business to the blockchain ledger, allowing for more private Bitcoin transactions that can't be viewed by the entire world.
On the front of fees, two co-authors of the original Lightning Network white paper have claimed fees on the layer-two scaling solution for Bitcoin will be effectively zero.
Lightning first announced BTC and LTC cross chain swaps in November, and earlier this month purchased a coffee using the network.
Super excited to announce the first BTC<>LTC cross-blockchain swap on @lightning. The future of decentralized exchange is coming. ???? https://t.co/leBfS7IAiK

— elizabeth stark (@starkness) November 16, 2017
Achievement unlocked: We've created a fully compatible Lightning Network on bitcoin! ✅⚡️https://t.co/wTqI4uKhkd

— elizabeth stark (@starkness) December 6, 2017
With recent Bitcoin unconfirmed transactions reaching all-time highs and median transaction fees skyrocketing to over $30, this may seem like some positive news to Bitcoin supporters. However, the Lightning Network is a sidechain solution and will not be enabled in every wallet; and while it may help alleviate problems with Bitcoin's network it's only a temporary solution. Eventually, Bitcoin Core will have to increase the block size to handle the large-scale adoption of Bitcoin by the general public or be replaced there are no substitutes/other options.
Bitcoin is currently being traded at [FIAT: $14,093.20] after plunging for the last few days according to Coin Market Cap at the time of this report.
Want an edge in the crypto markets? Subscribe to our free newsletter. Follow Coinivore on Facebook, at Twitter and Steemit.