Market Volatility Due To Forks, Regulations Fears And More As Total Market Cap Plunges Under 500 Billion
The price of bitcoin has fallen below [FIAT: $9,000] for the first time in more than 2 months since its surge to $19,000-20,000 in December.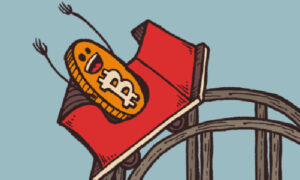 As of press time, according to Coin Market Cap, Bitcoin was trading at [FIAT: $8,952.02], a move that came hours after the market opened above $10,000. The price of Bitcoin has seen significant volatility on Thursday as it fell below that figure.
The fall below $9,000 marks the lowest Bitcoin has fallen since late November 2017, market data shows when it first reached that milestone. As of press time, the price of Bitcoin was trading at roughly $8,954.13, representing a decline of approximately 11%.
Additional market data reflects how many other cryptocurrencies are seeing price declines during the day's session. Most of the top 25 cryptocurrencies are seeing double-digit percentage declines over the past 24 hours, according to price-tracking websites CoinMarketCap and OnChainFX.
The declines follow a tough month for cryptocurrency markets. Market data shows that, in the past 30 days, the collective market capitalization for all cryptocurrencies has fallen from more than $800 billion to less than $500 billion.
The reason for this fall in price is partly due to Facebook banning cryptocurrency advertisements, and continued regulation fears spreading FUD (fear uncertainty and doubt) among the cryptosphere.
South Korea regulation fears have been fueling a sell-off in cryptocurrency for the past few weeks. South Korea has responded since stating that although they have found $600 million in illegal trades they are not planning on banning cryptocurrency exchanges, Reuters reported.
A South Korean court has also recently ruled that Bitcoin has an economic value for the first time. This overturned an earlier court ruling which did not recognize the digital currency and had locked up 191 bitcoins due to confiscation.
Meanwhile, in the U.S. another huge factor (although 2-month-old news) is the subpoenas of Tether and Bitfinex by the Commodity Futures Trading Commission (CFTC.)
Another huge factor that many don't realize is that Bitcoin is set to have over 50 forks this year, this will all suck the wealth out of Bitcoin. Many of these forks, if not all of them, are scams and money grabs.
Overall the forking factor might affect Bitcoin's price the most in the long run.
In other news, Venezuela's president Nicolás Maduro has announced the pre-sale and presented the whitepaper for his country's national oil-backed cryptocurrency, the Petro, Bitcoin News reported.
During the time at the end of this report, Bitcoin was starting to recover to [FIAT: $9,269.76] according to Coin Market Cap.
Want an edge in the crypto markets? Subscribe to our free newsletter. Follow Coinivore on Facebook, at Twitter and Steemit.