Tim Draper On Cryptocurrency "Why Would I Sell The Future For The Past."
Posted On February 24, 2018
---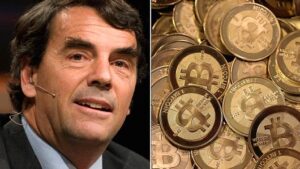 In a recent interview, venture capitalist Tim Draper expressed his bullish attitude towards Bitcoin, stating the digital currency is the future of money and why trade the future for the past?
"I think Bitcoin is the future currency," Tim Draper said on Thursday during an interview with Bloomberg.
"People ask me, 'Are you going to sell your Bitcoin for fiat?' and I say, 'Why would I sell the future for the past?'" Draper said.
A candidate in Forbes' recent Crypto Rich List, Draper made much of his crypto wealth through taking the risk of snatching up bitcoins auctioned off from Silk Road by U.S. Marshals in 2014. His digital wealth now would be worth an astounding $18 million dollars.
Draper is also a high-profile backer of Tezos, which he's been forced to defend as delays have dragged on and the lawsuits have piled up against the cryptocurrency. One of the biggest points of contention with Tezos is the extent to which Bitcoin has grown in value since. This has benefited Tezos but has harmed investors who traded their BTC last year on the promise of XTZ tokens. (That have yet to be received.)
Tezos meanwhile, can finally move forward after nonprofit foundation chief of the Tezos Foundation Johann Gevers has stepped down.
This clears the way for new leadership at the foundation, opening up the $232 million to be used by Arthur and Kathleen Breitman to develop the Tezos project, WSJ reported.
For months, the husband-and-wife team behind Tezos has been locked in a fierce battle for control of the funds with the head of the board of the nonprofit that sold the digital coins.
Ryan Jespersen succeeds Gevers, Jespersen was previously a chief operating officer at a Lehi, Utah-based fintech startup called Divvy, according to the foundation.
When questioned about Bitcoin's volatility on Bloomberg, Draper brushed aside suggestions that this was a turn-off for "regular people." Instead, he chose to focus on the confidence he has in Bitcoin; he further stated: "My Bitcoin is more secure than my dollars in the banks…my Bitcoin is very secure," when he was questioned whether Bitcoin was secure or not.
Bitcoin is currently trading at [FIAT: $9,623.53] down –5.23% according to Coin Market Cap at the time of this report.
Want an edge in the crypto markets? Subscribe to our free newsletter. Follow Coinivore on Facebook, at Twitter and Steemit.
---
You may also like