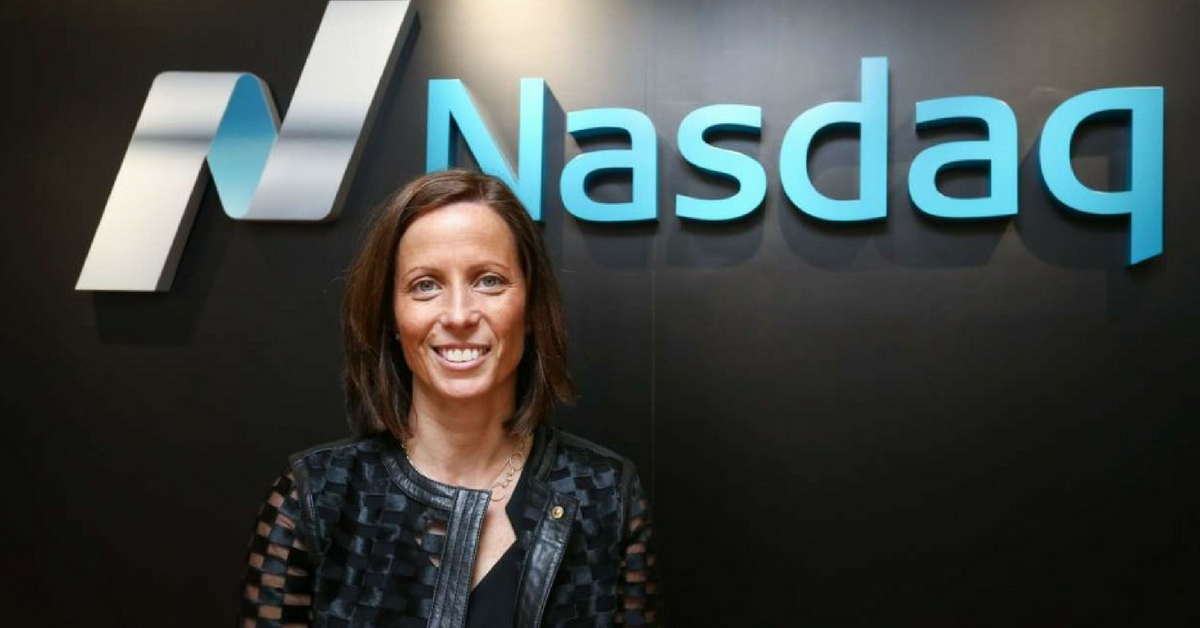 The chief executive officer (CEO) of Nasdaq, Adena Friedman, discussed cryptocurrency and blockchain technology, in an interview with CNN. In the interview, Friedman expressed her bullish optimism for the future of cryptocurrency.
"It's Virtual Cash, That's the Great Thing About Cryptocurrencies" – Nasdaq CEO, Adena Friedman said.
When asked what role cryptocurrency will play in the economy of the future Friedman responded:
"Do I think digital currency plays a role in the economy of the future, I think the answer is probably yes." Mrs. Friedman added, "How it evolves and which of the cryptocurrencies may or may not be the one that ultimately gets embraced, I think that really the jury is still out on that."

"But I do think the idea of a more globalized payments mechanism that's more efficient than what we have today, that allows money to transfer cross country, and support [s] the internet economy," said Mrs. Friedman. "It feels like it's the right next step in the space of currency"
Friedman explained Bitcoin and cryptocurrencies can be highly manageable to contemporary settlement processes at all levels of society, stating "We pay all of our service providers through this electronic means of transferring cash, and we are fine with it. The whole world is changing around payments and it's going to be fascinating to see where it goes."
However, despite being optimistic about cryptocurrency, Friedman emphasized regulatory uncertainty was "the major issue" surrounding cryptocurrencies, stating "Are the governments going to start to embrace it, or are they still going to have it sit outside the realm of their oversight. That's the real question."
Friedman explained the applicable uses for blockchain for the efficiency of post-trade and settlement.
"If we can make the system more efficient by shortening settlement cycles, it takes a lot of risk out of system, and therefore it makes it so that the banks don't have to be as capital intensive," said Mrs. Friedman, added that blockchain "creates a lot of incentive for everyone in the entire network to find a way to put this technology in place."
Friedman expects the mainstream to resist disruptive technological innovation, stating "in the established markets, there is a lot of embedded, older technology, that you really would have to rip out in order to be able to put this in. Our view is that the first uses of the blockchain will be in less regulated markets, less efficient markets, more bespoke markets, test it out, show that it works, demonstrate the efficiency in the NASDAQ private market, or the fund industry, or in smart-contracts. Show that it works, and then start to bring it up into the more regulated markets."
"I think the technology is a fascinating and very sound technology, its just a matter of making sure that the community is all embracing it together," Friedman concluded.
In another recent interview this time with CNBC, Friedman stated that NASDAQ is open to the possibility of offering cryptocurrency exchange services in the future.
"I believe that digital currencies will continue to persist, it's just a matter of how long it will take for that space to mature," Mrs. Friedman said. "Once you look at it and say, 'do we want to provide a regulated market for this?' Certainly, Nasdaq would consider it."
In February, Friedman expressed her views on Bitcoin exchange-traded funds, or ETFs at the World Government Summit in Dubai.
When she was asked about the United States markets, the CEO of NASDAQ gave doubts on the opportunity of Bitcoin ETFs on the American exchanges, stating "regulators need to deeply assess if the market could be made fair for all and if this asset becomes really viable in the future."
However, she expressed that NASDAQ's Nordic markets are already using another security backed by the market index – Bitcoin ETNs or exchange-traded notes testing. Adena Friedman implied that the testing of Bitcoin ETNs is developing well.
Bitcoin is currently trading at [FIAT: $8,372.81] according to Coin Market Cap at the time of this report.
Want an edge in the crypto markets? Subscribe to our free newsletter. Follow Coinivore on Facebook, at Twitter and Steemit.