A review of online precious metals dealers that accept bitcoin and other cryptocurrencies as payment.
By Jeff Paul
One of my favorite ways to take profits during a bull market is to buy precious metals with bitcoin. To be clear, I'm not a cryptocurrency trader and I have never exchanged crypto for government currency. But I do pay for things with bitcoin and cryptocurrency. Spending it is a valuable way to spread adoption and encourage more acceptance.
Buying silver and gold online with cryptocurrency can lock in profits with another private asset that has potential for gains, while diversifying your holdings against inflation.
Even though Bitcoin is the new hotness, gold and silver are also very desirable assets especially when governments are scrambling to "stimulate" their economies with more money printing and negative interest rates like the Bank of England recently promoted.
Over 20% of all US dollars ever created were created in 2020. If this money creation continues apace, all desirable assets with a limited supply could increase in price relative to dollars – including cryptocurrency and precious metals.
Taking possession of physical gold and silver is arguably more private than owning cryptocurrency. And don't say metals are harder to store. The Winklevoss twins flew all over America to secure their Bitcoin private keys in safe deposit boxes at different banks, according to the book Bitcoin Billionaires. So storing a lot of crypto may require the same physical security as precious metals.
It only takes a handful of gold coins to store tens of thousands of dollars in value. A small safe or fire-proof lock box is likely sufficient for most people.
Personally, I only buy American Eagle coins. They have the highest premiums but they are the most recognizable and tradable weighted silver and gold coins.
Online precious metals dealers that accept Bitcoin and other cryptocurrencies have competitive prices, fast discrete shipping, and and solid customer service.
Here are the best places to buy gold and silver for cryptocurrencies in 2021:
Money Metals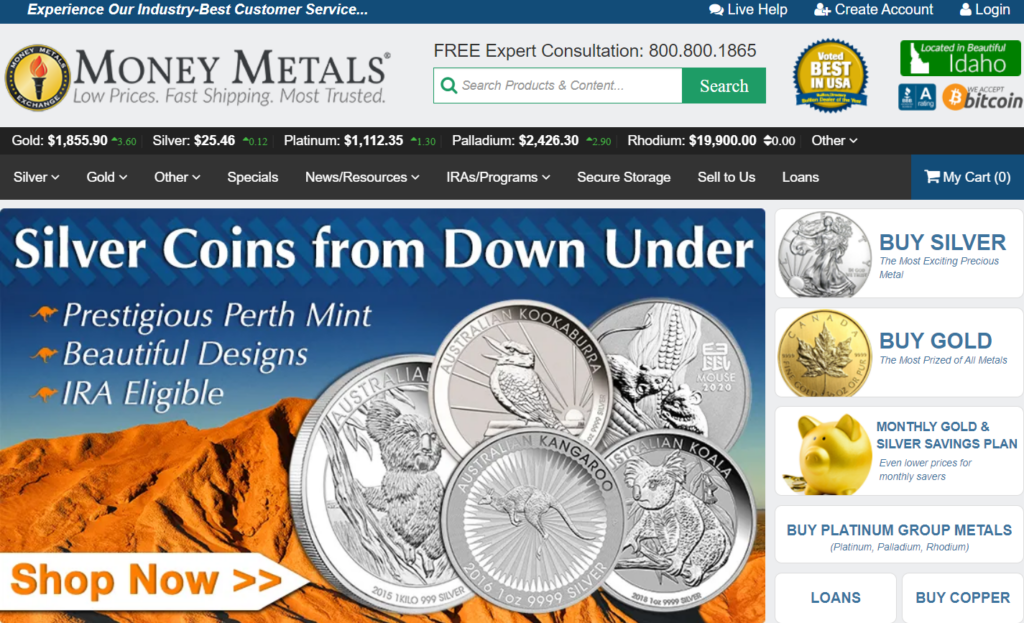 I primarily use Money Metals because they have great service, low prices, and they accept several cryptocurrencies including Bitcoin (BTC), Bitcoin Cash (BCH), Ethereum (ETH), Litecoin (LTC), and Dash!
Money Metals is based in Idaho. They keep all of their inventory in stock for fast shipping. I'm always surprised to see they usually have the lowest prices for silver eagle 1-ounce coins because I know how good their customer service is from past phone calls.
Check out Money Metals here to buy gold with bitcoin and other cryptocurrencies.
APMEX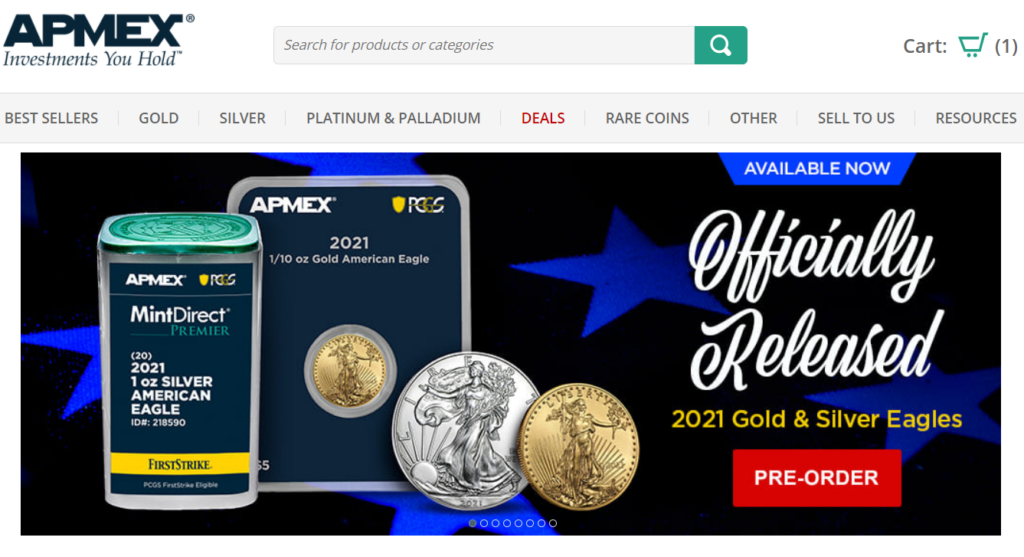 APMEX is the largest online precious metals dealer based in Oklahoma, USA. They boast "Since opening for business with four employees selling Precious Metals out of a small storefront, APMEX has grown to an 80,000 square foot building with more than 200 people on staff. Over the last 15+ years, we have sold more than 130 million ounces of Gold and Silver in more than 60 countries around the world."
APMEX only accepts Bitcoin (BTC) and Bitcoin Cash (BCH) but the checkout process is easy and fast. Purchasing gold with bitcoin at APMEX is cheaper than purchasing with PayPal.
Shop for gold and silver at APMEX here.
JM Bullion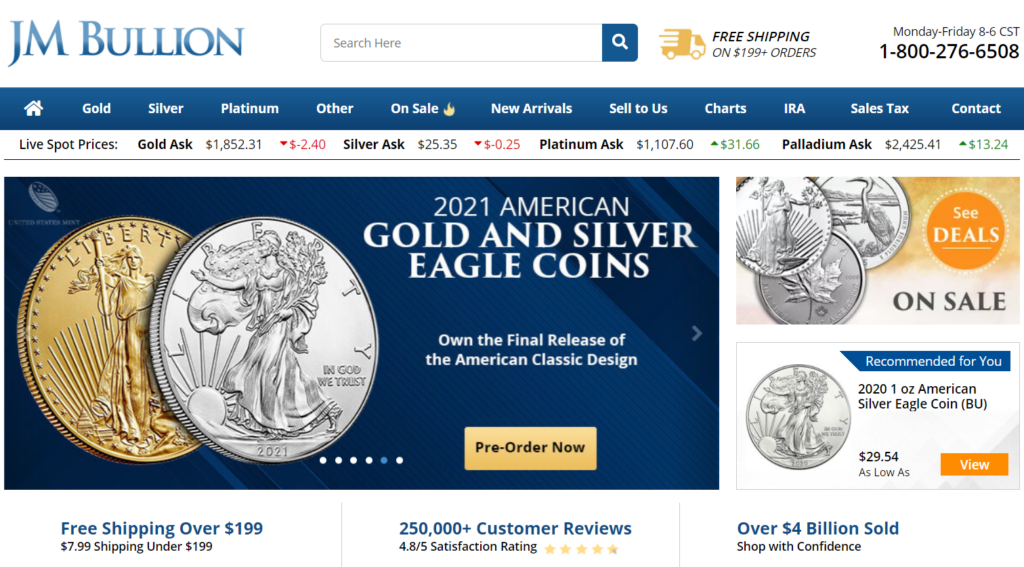 JM Bullion has some of the lowest prices in the industry and they offer free shipping on purchases over $199. They have over 250K customer reviews and have sold over $4 billion in precious metals.
JM Bullion accepts the most different cryptocurrencies out of all the gold and silver shops on this list – including Bitcoin (BTC), Bitcoin Cash (BCH), Ethereum (ETH), Ripple (XRP) and multiple USD stablecoins.
Buy gold and silver for crypto at JM Bullion here.
SD Bullion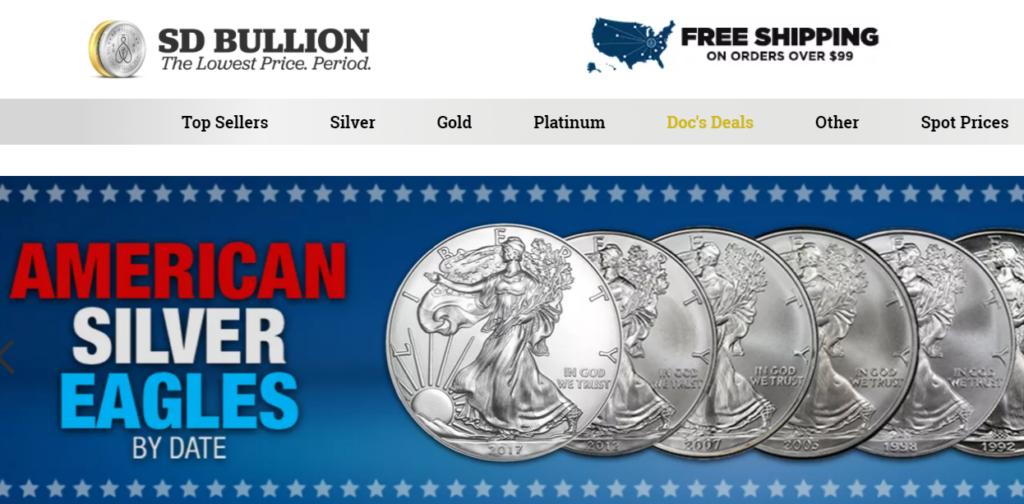 SD Bullion was founded by two doctors aiming to provide the lowest prices for gold and silver. Spot prices change rapidly and SD Bullion is quick to update to give the most competitive prices. They boast over 100K customers and over $1 billion in sales since opening in 2011.
SD Bullion only accepts Bitcoin (BTC) which has high transactions fees. So any savings when buying gold with bitcoin could be eaten up by those fees.
Shop for precious metals using bitcoin at SD Bullion here.
GoldSilver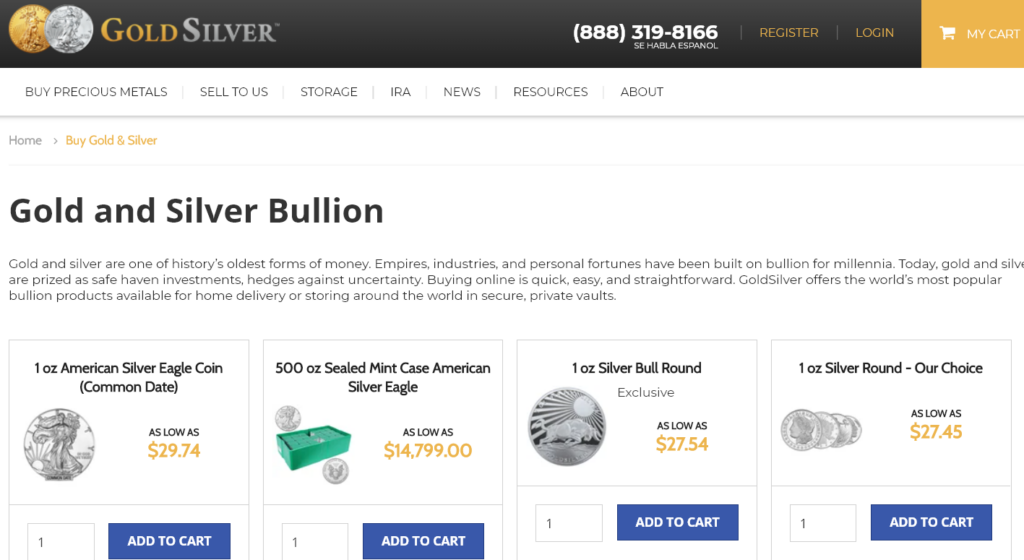 GoldSilver.com is run by popular financial commentator Mike Maloney. His YouTube channel has over 600K subscribers where he talks about macroeconomics in relation to precious metals and cryptocurrency. This shop has a smaller selection of options, but they carry the most well-known coins.
GoldSilver offers a 3% discount when paying for silver or gold in bitcoin. They only accept Bitcoin (BTC) and Bitcoin Cash (BCH) as payment.
Check out GoldSilver.com here.
Provident Metals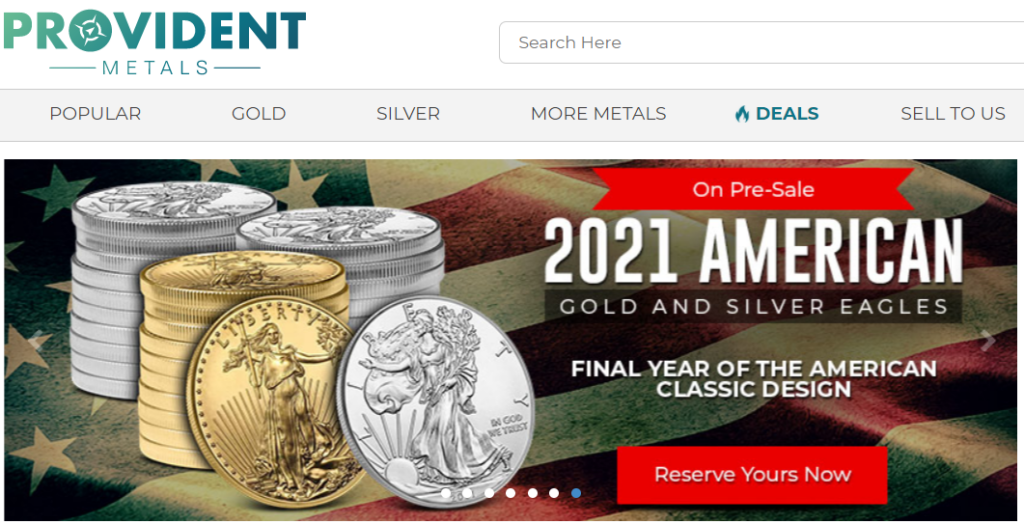 Provident Metals, based in Dallas Texas, has processed over 1 million sales and has over 31K reviews. They have a good selection of gold and silver coins and bars and offer free shipping on orders over $199.
Provident Metals only accepts Bitcoin (BTC).  Although they give a 3% discount for paying with bitcoin, again, BTC network fees may eat up much of that discount depending on the size of your order. But it's still a more private way to pay for gold and silver.
Shop for gold and silver with bitcoin at Provident Metals here.
There you have it; 6 ways to buy gold and silver with bitcoin or other cryptocurrencies. Now you can easily take profits in another hard asset instead of dollars during cryptocurrency bull markets.
Jeff Paul is the founder of Coinivore.com and co-founder of Counter Markets newsletter to help you prosper outside the rigged system.
RELATED READING:
How To Buy Anything On Amazon With Bitcoin