Nasdaq and Chain to Partner on Blockchain Technology Initiative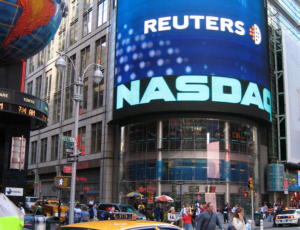 Chain Will be Inaugural Client on Nasdaq Private Market to Leverage Blockchain Technology
Nasdaq (Nasdaq:NDAQ) today announced a new partnership with Chain, the leading blockchain infrastructure provider to financial institutions and enterprises, to leverage the blockchain platform to facilitate the secure issuance and transfer of shares of privately-held companies. Chain, currently privately-held, plans to be the inaugural company to use the blockchain technology on Nasdaq Private Market.
"We are excited about the potential impact of this new endeavor with Chain on the transaction process," said Bob Greifeld, CEO, Nasdaq. "This Nasdaq Private Market project aims to simplify the overwhelming challenges private companies face with manual ledger record-keeping. As blockchain technology continues to redefine not only how the exchange sector operates, but the global financial economy as a whole, Nasdaq aims to be at the center of this watershed development."
The new partnership with Chain marks the latest milestone on Nasdaq's exploratory approach to apply blockchain technology across the company. In May, Nasdaq announced initially leveraging the Open Assets Protocol, a colored coin innovation built upon the blockchain. In its first application expected later this year, the company plans to launch blockchain-enabled digital ledger technology to expand and enhance the equity management capabilities offered by its Nasdaq Private Market platform.
"Chain is thrilled to be working with Nasdaq on blockchain initiatives which will reduce the time, costs, and points of friction across the capital markets," said Adam Ludwin, CEO of Chain. "Nasdaq's technology and thought leadership in creating new, dynamic markets will carry over into the blockchain space in truly disruptive ways."
By using the blockchain to represent securities and manage capitalization tables, stockholders can seamlessly transfer securities between entities, and companies and their affiliates can be provided with a complete historical record of issuance and transfer of their securities. Importantly, the use of a blockchain-based distributed ledger can also offer integrity, audit ability, issuance governance and transfer of ownership capabilities.
---
More Info