Bitcamming: An interview with Camgirl Royal Tiffany About Bitcoin
Posted On November 6, 2015
---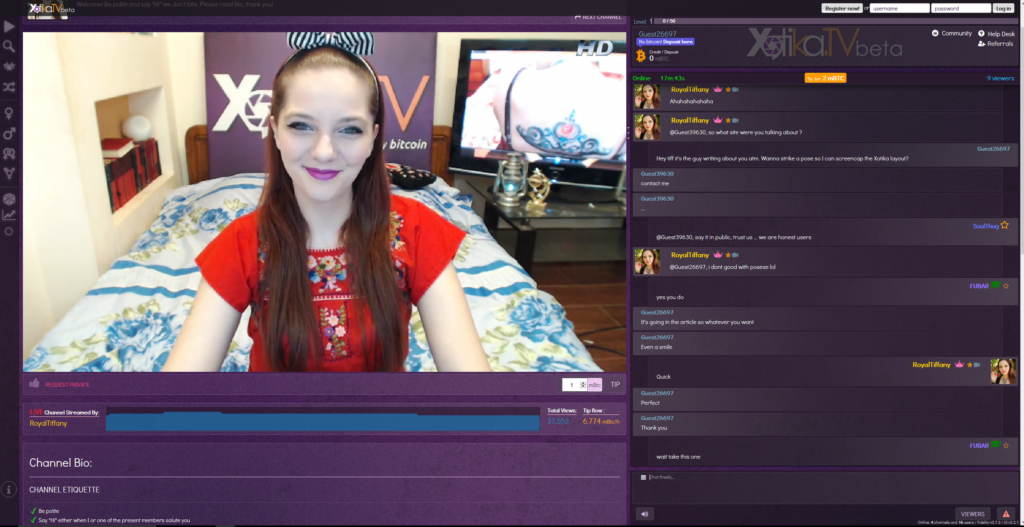 In 1999 one would have never thought that in 2015 there would be models sitting in the comfort of their own home providing digital companionship in exchange for money. Some might see it as a form of sex work, some might see it as a modeling day-job, and others might just like making people happy. Regardless of your feelings on adult entertainment on the internet it's here to stay and it is a growing business.
Pornography is a multi-billion dollar industry and continues to expand on a yearly basis. One of the more lucrative and popular forms of adult entertainment has become camming. Essentially, camming is where models put themselves up on screen while people pay for them to do different things, or even just to talk to them. Companies such as Streamate and LiveJasmin have pioneered this highly sought after form of interactive adult performances.
While it's easy to find free videos on the web or torrents of popular porn films camming has remained popular and profitable. Users seem to enjoy the personal experience and the, "face to face" interaction that camming offers. Models enjoy it because it's safer for them, it's always nice to work at home and it can pay better than normal jobs. Cam models have generated their own community in a way sharing tips, tricks, and methods for earning their income and have carved out a legitimate income stream for themselves.
With big money industries comes the inevitable issues of payment. As anyone who has worked with credit cards for any enterprise company with a large revenue base, fraud is persistent. If it's not someone regretting the $200 they spent on content and doing a chargeback, it's carders and phishers constantly using stolen card info obtained from other sources.
Credit cards are easy to fake and it's even easier if your information was directly stolen and passed along to fraudsters. Fraud can't be prevented without disabling credit cards but it can be mitigated by tracking country IP origins, spending patterns, and establishing relationships with legitimate users.
With Bitcoin there is no fraud. All payments are final. You cannot duplicate bitcoins and you cannot move them without the private keys. Some Porn sites such as Playboy, Chaturbate, and Naughty America have begun accepting Bitcoin payments. At this time they may provide a lower volume of their sales due to the prevalence and popularity of legacy payment methods. Cam sites have so far not been too accepting of Bitcoin. Xotika has changed that by manifesting a platform for models to come and perform in exchange for Bitcoin only.
I recently got in contact with Royal Tiffany, one of the site's flagship models, and talked to her about using Bitcoin. She's a cammer that resides in Italy and is boasting just short of 40,000 viewers in her time on Xotika.
PP: Thanks for taking some with me today Tiffany. How long have you been camming? What camsites have you worked under before? (Livejasmin, Streamate, etc)
RT: I have been camming for three years now and I tried them all. Some I liked a lot, some I dropped, and you can still find me online occasionally on some.
PP: My understanding is that you get to to keep a larger percentage of your earnings, mostly due to the lack of fraudulent carders and the nature of Bitcoin. Has this resulted in a greater take-home pay for you compared to other hosts?
RT: Some cam sites offer from 30% to 80% [of earnings], some cover chargebacks [or fraud] to an extent, some don't. In my opinion 50%-65% from XOtika.Tv is a reasonable percent for a new site, created for a specific market.
The no chargeback system is one of the greatest assets of this Xotika as a camgirl therefore I get to keep all my earnings.
PP: How much did you know about Bitcoin when you started? How did you educate yourself? Do you think using Bitcoin is beyond the technical skills of most cam models?
RT: I didn't know anything about it. I knew what it was, and that's about it. Everything I know now, I learned from the wonderful people coming in my channel. They had the patience to teach me and I am a fast learner. I also read about as much as I could, I still have a lot to learn though. I can't speak in the name of all the cam models, but it shouldn't be such a hard thing to understand. Honestly, you don't even have to understand it too much if you don't want to. Yes, it's always good to have more people interested in Bitcoin, but most of cam models will just change it to fiat [local currency], so all you need to know is how to exchange it, and that, that is not rocket science.
PP: What's your experience being paid in Bitcoin for your work? Is it faster or easier than waiting for a check, wire transfer, or other payment medium?
RT: It's instant. First of all you don't have to wait from 7-21 days to get them, second, of course it's easier, it's easy to transfer, easy to exchange them, easy to spend them.
PP: Have you had any difficulty with cashing the coins out to pay for rent, food, etc?
RT: I keep 80% of my Bitcoins in cold storage. The rest I spend them on whatever I can, or use them to tip other models.
PP: Xotika is still a small place being run by a few people. Do you see growth for them soon?
RT: I do. And I am going to do whatever I can to help this site get bigger.
PP: What is the model application process like? Has Xotika seems to have a small number of active models, are they a little more picky about the models they let on the site?
RT: Actually there isn't a model application process. You register, you create a channel, you stream.
PP: So if there isn't a application process how do they screen for minors who might sign up on the site?
RT: Usually they check every person that comes LIVE , so if they have concerns about anything they will email and ask for ID to verify their age. There is a report button for any site violations.
PP: I'm going to guess you have contact with other models, both on Xotika and other hosting sites. What do they say about you camming for "magic internet money"?
RT: Most of them are really skeptical and don't trust Bitcoin, because they don't see the actual value, the physical money in hand. Some of them, don't have an issue with it.
PP: Is there a difference in the type of customers you encounter on Xotika vs other cam sites?
RT: Yes, there is. They are more polite, more patient. Yes, you can encounter the occasional troll but they are rare.
PP: I'm not sure if you've had to deal with taxes yet for your Bitcoin earnings. When tax season comes along how are you approaching that?
RT: Being from Europe is a big advantage when it comes to taxes, unlike being from U.S. As you probably already know, the European Court of Justice decided that Bitcoin is VAT free, no taxes on Bitcoin. I am not really aware of what the laws are in US but in Europe everything is legit.
PP: From your perspective, what growing pains does Xotika have yet to manage?
RT: Like any other business such as Uber or AirBnB they seem to have the two-sided marketplace problem – where the value is proportional to the number of participants. Being a start-up it will just be a matter of time until more users and streamers join in. But even in the meantime, early camgirl bitcoin-adopters like myself benefit from the attention.
PP: Bitcoin is fraud proof, but have their been other issues such as models on a video loop, or the like?
RT: Since I started streaming on Xotika, I only saw one model trying to loop a video but she got busted just few seconds after starting. Mostly, bitcoiners are pretty tech-savvy so you don't last long among them if you try scams or malicious practices, therefore, I advise everyone to keep it real.
PP: So how do the "shows" work on Xotika ? The nude ones, do you kick out those who don't pay or is there a special mode for just the ones that pay?
RT: I set a goal for whatever i want to do, guests start tipping and when the goal is reached I do whatever. I can blind people who fail to pay but i don't. I run my channel as I see fit…I have total control and liberty to do whatever I want.
I decided to test out the site's functionality in a non-nude context and sent 9 mBtc ($4) to the wallet address for my account on Xotika and the funds showed up about 3 minutes later. I tipped them to Tiffany just to try it out and it worked flawlessly. No credit card declines and no requirements to provide my name or billing address.
The Xotika layout also gives a lot of information including the number of views, and the number of coins being sent per hour, measured in mBTC. Currently 1 mBTC is around $0.37. At the time I was in there Tiffany was pulling in about $5 an hour, but this number fluctuates and it is not at this time fully accurate according to Tiffany. Tiffany has received larger tips once receiving 3000 mBTC at once (today valued at $1230 USD).
Other cam sites might require verification of identity for users including, but not limited to, sending in your ID or communicating with your bank about the type of sites you're visiting and signed statements affirming you are the authorized user of the card. Xotika does not need such things. You pay. You're done. There's no billing address or zip codes required for their site, let alone a real name.
Xotika is still a small site but models like Tiffany are trailblazers for a sector of the pornography world that still hasn't been fully realized. For now Xotika has a very limited spectrum of models, but their platform will grow over time. Fraud proof payments offer an opportunity to provide users with savings in lieu of building the cost of chargebacks into the price. It also has the potential to prevent another Ashley Madison by limiting the amount of personal information collected.
You can check out Royal Tiffany on her Xotika page by clicking here. 
---
You may also like