Former Fed Reserve Head Ben Bernanke To Speak At Ripple Swell Event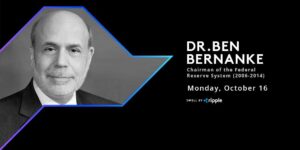 Ripple is going after the SWIFT system that services over 11,000 banks with its distributed ledger platform and has announced former Federal Reserve Chairman Ben Bernanke and World Wide Web inventor Tim Berners-Lee will speak at its Swell conference as keynote speakers in October.
Bernanke, who has criticized and praised cryptocurrencies in the past, will be interviewed by Gene Sperling, the former national economic adviser under former U.S. Presidents Bill Clinton and Barack Obama.
In what can be described as a risky strategy, the same day in the same city, Toronto, Swift will host its own flagship event called Sibos, Coindesk reported.
The event will be hosted at Airship37, 37 Parliament St, Toronto, ON M5A 2Y2, Canada, according to BusinessWire.
The conference was created to "bring together leaders in banking and blockchain who are committed to changing the way the world moves money," Ripple's website read.
The event will last three days from October 16th to October 18th and will have a number of speakers.
Ripple vice president of marketing, Monica Long, said Ripple still intends to be a sponsor of Sibos, and will continue to host a vendor booth there, but Ripple's aspirations were bigger than the payment vendor.
"Our vision for what we could do as an exhibitor exceeded what we could do on the floor at Sibos. The ideas that we had in mind around programming, you can't accomplish that on a show floor in a booth," Long said.
In 2013, Bernanke was among blockchain's early supporters, writing to Congress that the technology behind cryptocurrencies might hold "long-term promise."
However, two years later in 2015 Bernanke said Bitcoin has "some serious problems," citing its anonymity and lack of stability.
Berners-Lee has also long been rumored to be exploring the use of financial technology and the blockchain.
We can likely expect to see Ripple spike next month due to this event drawing potential investors.
Here's a list of other speakers who have been confirmed to speak at the event by Ripple with a full list promised to be released on September 12th:
Brad Garlinghouse, CEO, Ripple
Stefan Thomas, CTO, Ripple
Dilip Rao, Managing Director of APAC/MENA, Ripple
Amit Sethi, CIO, Axis Bank
Tom Jessop, President, Chain Inc.
Kristen Michaud, Managing Director, Treasury Operations, GE Capital
Brian Behlendorf, Executive Director, Hyperledger
Ed Metzger, Head of Innovation, Santander
Mr. Nobuo Ando, Representative Director, SBI Remit Co., Ltd
Takashi Okita, CEO, SBI Ripple Asia
Dr. Arak Sutivong, Head of Strategy, Siam Commercial Bank
Rahul Pai, COO, UAE Exchange
Marwan Forzley, CEO, Veem
Dharmesh Desai, Group EVP, Yes Bank
Want an edge in the crypto markets? Subscribe to our free newsletter. Follow Coinivore on Facebook, at Twitter and Steemit.