Charlie Lee Rumors, Jamie Dimon, Suspension Of China's Bitkan OTC Trading, And NIFA Causes Market Crash
Posted On September 13, 2017
---
Charlie Lee of Litecoin aka @SatoshiLite on Twitter tweeted out that a trusted anonymous source had told him that China was in the midst of banning Bitcoin exchanges, this caused an almost instant repeat of last Monday's crypto blood bath that is still lingering with all the other negative news.
The tweet has since been deleted but is archived below: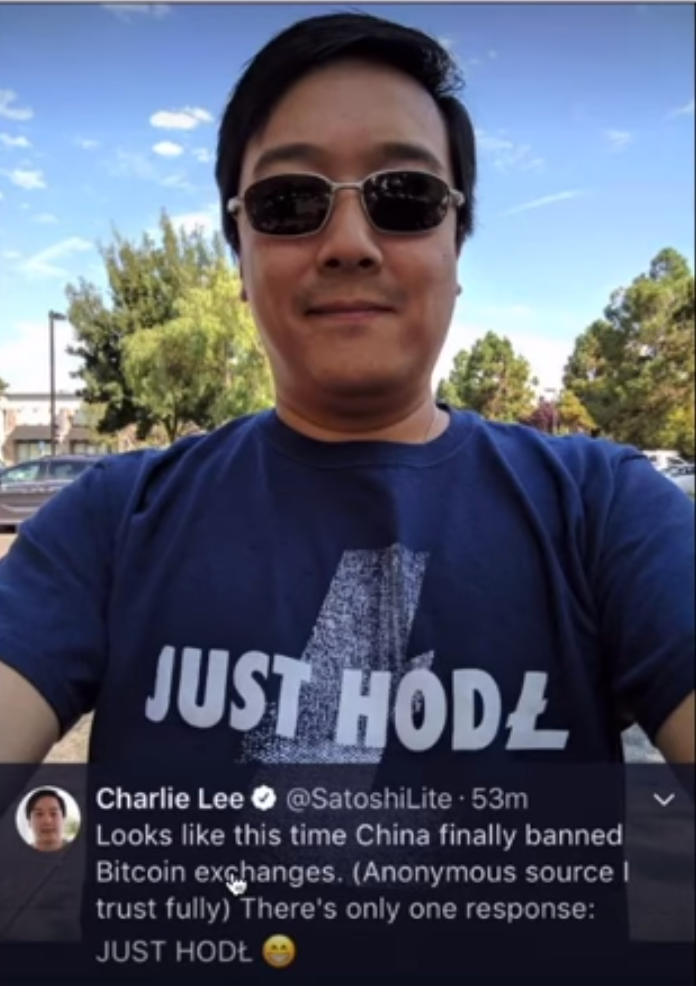 That's not the only piece of news affecting the markets right now. Yesterday JP Morgan Chase chief executive Jamie Dimon saw an opportune time to strike again for his long hatred of Bitcoin and proclaimed the digital asset at one point worth a 70 Billion Dollar Market Cap a "FRAUD."
He further stated that he would fire any trader known to be trading the cryptocurrency and added that Bitcoin is "worse than Tulip Bulbs and would get people killed."
Dimon gave the remarks during an appearance at an event hosted by Barclays, according to reports from Bloomberg and CNBC.
It's worth noting that Dimon is out of touch and becoming irrelevant; he has previously said that the cryptocurrency would "not survive" back in November 2015 when the price was fluctuating around the $400 level, and has consistently called Bitcoin a bubble, Coindesk reported.
The next big major move that may be fueling a cryptocurrency crash as we speak is that Chinese exchange Bitkan just announced its suspension of over the counter trading, SCMP reported. This follows the news for a week straight from numerous mainstream media outlets citing anonymous sources that have suggested China is banning Bitcoin. In short, the news conflicts with each other so someone is playing a bit of a game with the cryptocurrency markets.
According to the Wall Street Journal, and their unverified anonymous sources, the regulators were not even sending clear messages on the details of the ban – such as when it would occur.
Apparently, one regulator told an exchange that the decision had already been made, while another said that it could take a few months.
"Despite the foggy nature of these proclamations, the Bitcoin price has taken a second dip after recovering from the news of the ICO ban in China."
Bloomberg also reports on the claims about exchange bans but stated:
"The ban will only apply to trading of cryptocurrencies on exchanges, according to people familiar with the matter, who asked not to be named because the information is private."
One exchange founder CEO of Chinese exchange BTCC Bobby Lee has summed it up nicely in a Twitter poll asking as we have if this is fake news:
In a statement released today, China's National Internet Finance Association (NIFA) asserted that cryptocurrencies like Bitcoin have become a tool for speculation among investors, while also serving as a payment conduit for illegal fundraising and money laundering.
NIFA stated the following:
"Any trading platform for any kind of so-called 'coin' has no legal base of foundation in China."
This combined news hitting all at once has caused Bitcoin to lose more than 5 per cent, now trading at $3841.92 at the time of this report. With an expected further market loss from the news of NIFA that may validate Charlie Lee and others' news that China is planning on banning Bitcoin exchanges.
Bitkan and NIFA's announcement followed the Chinese central bank's recent decision last week to ban fundraising through old digital currencies for new digital assets or ICOs, branding the practice as "illegal." This effort follows a wider stronger push to begin regulating cryptocurrency like Russia, a member of the BRICS alliance with China, has just done. At this point banning Bitcoin exchanges or cryptocurrency, in general, would be a hindrance to governments; we have reached a peak of no return its gained way too much Steem.
The People's Bank of China (PBOC) said that 90 per cent of the ICOs launched in China were found to have been fraudulent.
Want an edge in the crypto markets? Subscribe to our free newsletter. Follow Coinivore on Facebook, at Twitter and Steemit.
---
You may also like