China Exposes Users To Riskier Black Market Trading After Forcing Closure Of Bitcoin Exchanges
Posted On September 19, 2017
---
As China-based bitcoin exchanges are being forced to shut down, bitcoin investors are taking their trading elsewhere. They will now focus on broker-facilitated, over-the-counter exchanges.
Chinese traders found another way to conduct business through black market OTC exchanges set up on privacy-centric messaging app Telegram. A Quartz article detailed the move into the riskier black markets:
"The favored app for arranging OTC trades was WeChat, the ubiquitous platform run by Chinese tech giant Tencent. Now brokers are moving to chat platforms operated by non-Chinese companies to keep the trades going, in response to new rules tightening controls on chat groups," Quartz wrote.
Investors and brokers can now conduct trades silently, under the cover of Telegram's encryption. However, this practice is riskier than trading with an exchange because there is no trusted escrow or middleman, so trades risk getting scammed. In this sense, it is unlikely Bitcoin or any cryptocurrency will be harmed in the long term. The resiliency of the technology will emerge while under duress from various governments of the world; we have reached the war phase of cryptocurrency. What governments haven't realized is that cryptocurrency is Pandora's Box opened and there is no stopping decentralization.
The computer engineer who runs the CNLedger Twitter account echoed this in a statement: "Exchanges are not what give value to blockchain assets like Bitcoin. It is the intrinsic technology and numerous applications who play decisive roles."
China is now rumored to be seeking to ban Bitcoin transactions altogether, although such a move would not be widely accepted and hard to accomplish with encrypted apps like Telegram and others as resistance grows and coders outsmart Chinese financial authorities. If anything China may force the use of more privacy-centric truly anonymous cryptocurrencies like Monero as International Business Times reported.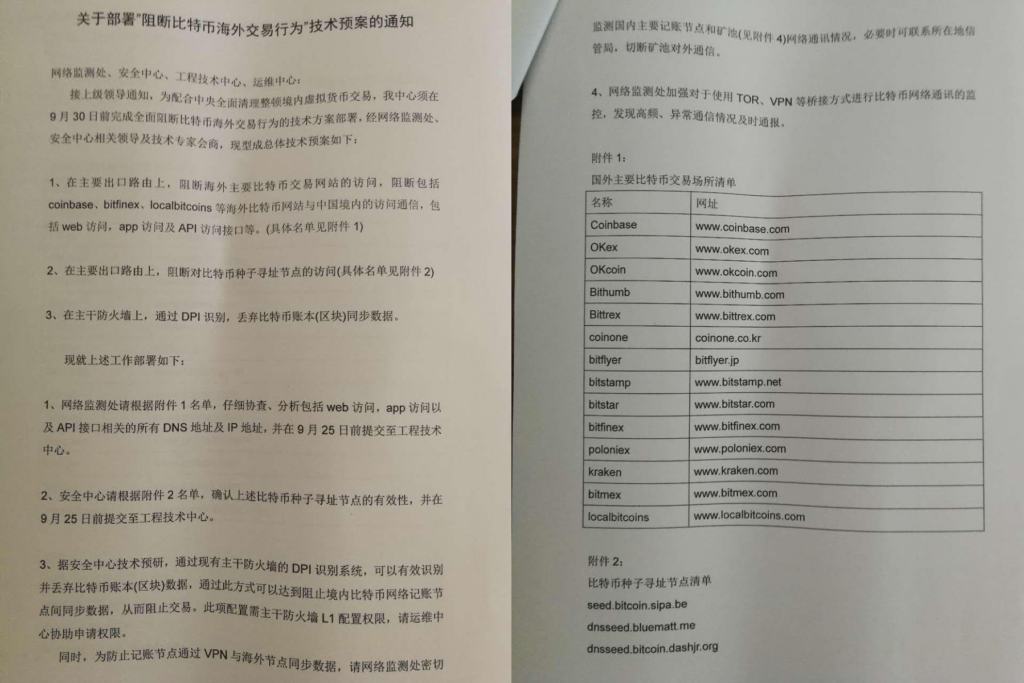 Loosely translated, the unverified document states the Chinese IT Bureau would use its Great Firewall to block access to main foreign BTC exchanges abroad, including limiting API access. It would also block seed node addressing.
The Chinese government would also take action. It will analyze all DNS and IP addresses, and hand in lists to the IT Bureau. The document further stated:
"Meanwhile, to prevent the domestic block nodes to sync with nodes abroad, government will monitor the communication between the domestic block node with the pool(appendix 4). In case of emergency, cut down the network of the pool. Monitor highly on the BTC network's communication via bridge connection, TOR and VPN etc. Inform the most frequent requestm."
The Wall St Journal collaborated the rumor citing anonymous sources familiar with the matter:
"Regulators have decided on a comprehensive ban on channels for the buying or selling of the virtual currency in China that goes beyond plans to shut commercial bitcoin exchanges.

A broader clampdown will likely include blocking mainland access to websites of foreign bitcoin exchanges such as Coinbase in the U.S. and Bitfinex in Hong Kong," Wall St Journal wrote.
This news comes after Beijing ordered all Bitcoin exchanges in its region to shut down last week, which many have already complied and issued shutdown warnings to their users, including Btcchina, Huobi and Okcoin. That came after a week of rumors including one from Litcoin founder Charlie Lee who got lambasted for his decision to tell his followers what was going on in China.
The Bitcoin exchanges specifically named in the document that would be blocked include Coinbase, Okcoin, Bithumb, Bittrex, Coinone, Bitflyer, Bitstamp, Bitfinex, Poloniex, Kraken, Bitmex, and Localbitcoins. China also banned initial coin offerings at the beginning of the month as an illegal form of public financing, which in turn caused the cryptocurrency markets to crash. News on the ban of Bitcoin transactions has so far unaffected the markets. Bitcoin is trading at [FIAT $4,000] at the time of this report.
Want an edge in the crypto markets? Subscribe to our free newsletter. Follow Coinivore on Facebook, at Twitter and Steemit.
---
You may also like