Company Announces Launch of Largest Cryptocurrency Exchange in South Korea
Posted On September 25, 2017
---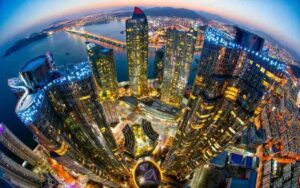 South Korean fintech company Dunamu Inc. announced on Monday that it would launch a cryptocurrency beta exchange called "Upbit" next month. The company claims that Upbit will be the largest digital currency exchange in South Korea.
Upbit will have both Android and iOS apps, as well as a website accessible through computers. The service will also offer coin investment guides with analyses of various altcoins in its market similar to the idea behind Bitquence. Additionally, the new exchange will also offer internal Bitgo wallets to users of the platform as well as Kakao Pay authentication for added security, its website states.
To launch Upbit, Dunamu signed an exclusive partnership agreement with the U.S. Digital currency exchange Bittrex, which supports over 190 cryptocurrencies, according to its website.
KBS World Radio, stated initially Upbit will offer 11o digital assets as launch with plans to expand:
"Upbit will trade over 110 different digital currencies including Bitcoin, Ethereum, Ripple, and Litecoin. In comparison, existing exchanges in South Korea trade around six to eight virtual currencies," the publican wrote.
Pre-registration for the exchange begins on Monday, September 25. Users who pre-register will be entered into a drawing to receive one coin from the list of cryptocurrencies that will trade on Upbit, including bitcoin according to Edaily.
This comes as South Korea surpassed China's Bitcoin trading volume last week according to Coin Telegraph. "More trading volume than Bitfinex and Bittrex combined," tweeted Joseph Young, a journalist at Coin Telegraph.
Today, South Korea surpassed China in #bitcoin trading volume. South Korea's Bithumb processes more volume than Bitfinex + Bittrex. pic.twitter.com/10fiT4YzJg

— Joseph Young (@iamjosephyoung) September 21, 2017
In July earlier this year, South Korea legalized international Bitcoin transfers and is on the verge of providing a regulatory framework for Bitcoin trading platforms and exchanges according to the Korea Herald.
This also comes amid tensions between the U.S. and North Korea, foreign minister Ri Yong-ho of the country held an abrupt press conference in New York, accusing U.S. President Donald Trump of declaring war against North Korea. Ri emphasized that the "world should clearly remember" that it was the U.S. which declared war against North Korea. Ri told reporters:
"In light of the declaration of war by Trump, all options will be on the operations table of the supreme leadership of the DPRK (North Korea)," he stated.
Over the weekend the U.S. and Japan completed a collaborative military drill in which B-1B bombers from Guam and F-15 fighter escorts from Okinawa, Japan flew over the waters of North Korea. This caused global stocks to plunge for three days in a row as analyst explained and they believe that stocks and assets could fall further in value if global markets volatility and economic uncertainty continue, CNBC reported.
"I think the market got a little nervous about that (U.S. bombers flying over North Korean air space). On top of the German elections it makes the market a bit unsure right now," John Caruso, senior market strategist at RJO Futures said.
Which as an effect caused the price of Bitcoin to increase by $260, after struggling to surge past the $4,000 mark over the past five days and breach its all-time high of $5,050. As investors seek a safe haven for their assets during this market turmoil. Bitcoin is currently trading at [FIAT: $3909.05] at the time of this report according to Coin Market Cap.
As Max Keiser has previously noted, "in times of global markets volatility and financial instability, an increasing number of investors and traders seek safe haven assets and long-term investments that are liquid, secure, and stable."
Want an edge in the crypto markets? Subscribe to our free newsletter. Follow Coinivore on Facebook, at Twitter and Steemit.
---
You may also like