Bitcoin Suffers Flash Crash After Russia Proposes Ban On Cryptocurrency Exchanges
Posted On October 10, 2017
---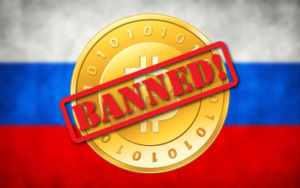 Sergei Shvetsov – first deputy governor of the Central Bank of Russia (CBR), has stated that Russia will start to block access to websites belonging to exchanges and trading platforms offering cryptocurrencies like Bitcoin, Reuters reported.
The central bank official made the remark speaking at a financial markets conference today when he pointed to the "dubious" nature of Bitcoin as an investment instrument for retail investors.
"We cannot stand apart. We cannot give direct and easy access to such dubious instruments for retail (investors)," Shvetsov said.
The central bank deputy governor's comments contradict those offered by Russia's finance minister Anton Siluanov last month. Speaking at a financial forum in Moscow at the time, Siluanov called for the Russian government to accept the reality of cryptocurrencies permeating into society. "There is no sense in banning them; there is a need to regulate them," Russia's finance minister stated less than a month ago.
This follows months of rumors of regulations and an announcement of a delay on releasing cryptocurrency rules.
Russia's First Deputy Prime Minister Igor Shuvalov previously said that the regulation would be delayed that was originally set for October.
"In April, we announced that the draft law would be ready in October. However, the situation on the market made us, in addition to the main bill, consider several more options. And now all these projects are postponed, we are watching the situation to understand," Elina Sidorenko, Department of Criminal Law, Criminal Procedure and Criminalistics of MGIMO said.
Bitcoin suffered a brief flash crash dropping [FIAT: $600] in value on Tuesday morning following the news but quickly recovered, CNBC reported.
This would be the third time that the country has issued some form of ban against Bitcoin and digital currency in the past several years.
Russia's Central Bank just approved its first exchange "Voskhod," so this is likely a temporary ban until regulations are set which will likely ban normal Russian citizens from investing into cryptocurrency due to high volatility.
At the time, Russian Deputy Finance Minister Alexei Moiseev's proposed Bitcoin regulation and listing digital assets on Moscow's stock exchange.
Bitcoin is currently trading at [FIAT:  $4,787.91] at the time of this writing according to Coin Market Cap.
---
You may also like