"Bitcoin Price Will Surge To $10,000 In Under A Year" Billionaire Wall St Cryptocurrency Advocate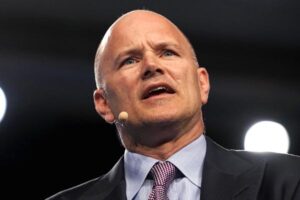 Former Wall Street giant turned billionaire private investor Mike Novogratz has stated that he believes we could see the price of a single Bitcoin hit above $10,000 in early 2018.
Michael Novogratz, a retired well-known Wall Street investor and highly regarded cryptocurrency advocate made the comments recently when he was on CNBC.
When Novogratz was asked to estimate Bitcoin's value in the coming months and years, he began his take by stating "the herd is coming," referencing several institutional investors that are getting into Bitcoin.
He went on to predict the future price of Bitcoin:
"I'm pretty confident to say it's going higher…It would not surprise me if in the next 6-10 months we are over $10,000."
Novogratz was further questioned if Bitcoin's value gains constituted a bubble, which JP Morgans Jamie Dimon has been persistent to claim, to which he replied:
"Historically, manias or bubbles happen around things that fundamentally change the way we live. If it's the railroad bubble or the internet bubble, it really changed the way we live," Novogratz stated. "This blockchain revolution, this decentralized revolution, is going to change the way we live. We've gone from it being an experiment to implementing."

"10 or 15 years from now, blockchain and decentralized systems will be everywhere.Yes, it's a bubble, it's going to be the great manias of all time…Bitcoin happens to the bellwether of this entire decentralized revolution. It's the easiest way people can get exposure to it. Bitcoin probably runs the hardest. But things like Ethereum will be the public utility of this new space. We've split our bets and we're betting on a lot of other ICOs as well," he added.
Novogratz is also starting a $500 million crypto hedge fund with $150 million of his own money, Bloomberg reported.
He additionally revealed that he was an early investor in 'Bitcoin, Ethereum and a lot of different ICOs."
Currently, Bitcoin is trading at [FIAT $5099.85] according to Coin Market Cap at the time of this writing. Bitcoin broke another milestone for a short period of time today, reaching a new high of [FIAT $5,200] Crypto Coin News reported.
Featured image via CNBC.
Want an edge in the crypto markets? Subscribe to our free newsletter. Follow Coinivore on Facebook, at Twitter and Steemit.