Russia Promises Cryptocurrency Regulation Won't Kill ICOs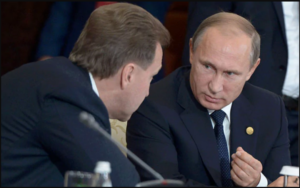 Russia's First Deputy Prime Minister Igor Shuvalov promised not to let initial coin offerings (ICOs) in Russia "die" because of regulations last week. Despite numerous bills being prepared to regulate ICOs, President Vladimir Putin has said that ICOs hold "tremendous potential" and should not have to endure interference from lawmakers.
Russia's First Deputy Prime Minister Igor Shuvalov spoke at a youth forum in Sochi last week. When one of the forum audience members asked him, "I have a big request for you, please do not let our ICOs die as a result of regulation." The deputy prime minister then responded "I promise the participants to defend the capabilities of ICOs and prevent them from 'dying'," RIA Novosti reported according to Bitcoin.com
"You are absolutely right," Shuvalov continued, adding that various countries adopt laws to treat cryptocurrencies differently. "Our immediate response is to immediately put this under regulation, to ban, because it is harmful," he said. Confirming that the government plans to regulate ICOs.
"We still do not know if it's harmful or not, but we are already trying to ban and close it down. If our place is among advanced countries, and we want to succeed in this competitive race and even create better standards of life than our partners we are looking at on their social economic standards, one must be a little bolder," Shuvalov said.
The news outlet also quoted Shuvalov stating at the forum, that "some of my colleagues from different departments and the government say that it smacks of MMM and something else." In early September, the Bank of Russia warned about ICO risks, Coindesk reported.
"In Russia, the need for the regulation of ICOs and cryptocurrencies, as well as the use of blockchain technology as a whole have been stated repeatedly," RBC reported. The head of a group working on assessing the risks of cryptocurrencies for the State Duma, Elina Sidorenko, said that the group will prepare a draft law on ICOs immediately after the drafted legislation on cryptocurrencies has been submitted to the State Duma.
The Russian Association of Blockchain and Cryptocurrency (RABIK) is also drafting a law to legalize ICOs, its president Yuri Pripachkin told RBC early this month. He described the bill as:
"Most likely, it will be its own model, since other countries, when regulating ICOs, rely on previous experience of instruments for attracting financing such as IPO, crowdfunding, etc."
Cryptocurrency legislation is expected by the end of this year according to the lawmakers.
The chairman of the state-owned Vnesheconombank (VEB), Sergei Gorkov, expressed in August the need to access the position of ICOs in Russia. "ICO is a phenomenon. From my point of view, this is an opportunity to attract additional money to the economy. It is necessary to assess the risks, which are formed in this connection, but this is one of the possibilities," Gorkov said.
At the youth forum, Shuvalov additionally said that Putin held a meeting in Sochi recently where he maintained:
"We need to be very careful about this so that people are not deceived so that rascals and lawbreakers do not use people's trust to simply shake money and create pyramids…But not to put obstacles in the way of new opportunities. ICO is a tremendous opportunity."
This comes as Russian Minister of Communications Nikolai Nikiforov said Sunday that a decision has been made by the Russian president to launch the CryptoRuble cryptocurrency.
"I confidently declare that we run CryptoRuble for one simple reason: if we don't, then after two months our neighbors in the EurAsEC (Eurasian Economic Community) will," Nikiforov said.
The minister added that the CryptoRuble will be based on Russian cryptography and its development is not going to take too long. It is expected that the cryptocurrency can be exchanged for rubles. However, unlike Bitcoin, it will not be possible for people to mine the CryptoRuble. Its issuance will be strictly regulated by central bank authorities. Which means that the cryptocurrency will be centralized and not decentralized.
Meanwhile, earlier this month Sergei Shvetsov the first deputy governor of the Central Bank of Russia (CBR), stated that Russia will start to block access to websites belonging to exchanges and trading platforms offering cryptocurrencies like Bitcoin. Leaving many to wonder what the future of cryptocurrencies besides the newly announced CrptoRuble will be or if this is just temporary until the country introduces regulation.
Bitcoin is currently trading at [FIAT: $5,844.09] at the time of this writing according to Coin Market Cap.
Do you think Russia will allow ICOs unlike its BRICS counterpart China? Let us know in the comments section below.
Want an edge in the crypto markets? Subscribe to our free newsletter. Follow Coinivore on Facebook, at Twitter and Steemit.