Bitcoin Gold Launch Causes Bitcoin To Fall To A Five Day Low Of $5,539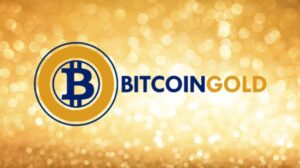 The price of Bitcoin fell to a five-day low today, presumably due to the Bitcoin Gold fork.
At the time of this report, Bitcoin is trading at a weekly low of [FIAT: $5,539.63]  according to Coin Market Cap, a retreat from the record highs above $6,100 that we saw earlier this week when Bitcoin spiked in value.
The reason is speculative, but many are pointing to the fact that the Bitcoin Gold fork was re-created yesterday. The new cryptocurrency cloned from Bitcoin's blockchain, Bitcoin Gold is now in the process of "hard forking" to a new blockchain with new rules.
As put forward by analysts including Blockchain Capital's Spencer Bogart, a former head of research and Needham and Co., the decline could be a sign that investors are moving money to the altcoins right now that Bitcoin Gold has initiated its hard fork. Bogart explains that Bitcoin rallied ahead of the launch in anticipation that holders of BTC would get an equal amount that would be credited in Bitcoin Gold, Coindesk reported.
Although, it's unclear whether this could be the case. As the new cryptocurrency was not yet distributed, the alternative is that investors may have sold off Bitcoin positions ahead of further sell pressure on the coming distribution of the cryptocurrency.
Immediately after the hard fork, the project's website was put under a denial-of-service attack. This fork comes less than three months after the controversial Bitcoin Cash fork and its effects are being felt.
So what is Bitcoin Gold?
Bitcoin Gold is "an adjustment" of the Bitcoin Blockchain that claims to try and once again make mining accessible to the general public. Miners and major mining operations and pools have presumably annexed this aspect of the cryptocurrency marketplace, and some tout Bitcoin Gold as the solution.
"This is what will be required to make fair mining accessible to the general public once again," Robert Khune, a strategist at the Bitcoin Gold project said. "A successful fork will prove that Bitcoin always has the ability to escape from any potential abusive mining hardware manufacturers," who he blamed for "unnecessary stalling" this year.
Despite Bitcoin Gold trying to solve a problem that has plagued the cryptocurrency community, making mining more accessible to regular people, the code is incomplete and does not have "replay protection." Which refers to transaction complications that may arise when two incompatible versions of the bitcoin blockchain are unable to distinguish each other.
Further, Bitcoin Gold faces another issue not many exchanges have offered support for the project, Coin Telegraph reported.
This isn't the last fork that also might be a factor in the sell-off today. We are weeks away from another hard fork, SegWit2x, of which the first phase was implemented in August and took some of the data off the main network. The next stage of the project is to increase Bitcoin's block size to shorten transaction times, an effort that is opposed by Bitcoin core.
Want an edge in the crypto markets? Subscribe to our free newsletter. Follow Coinivore on Facebook, at Twitter and Steemit.