Cryptoruble Delayed: Russian Central Bank Worried Cryptoruble Can Be Used For Bypassing Regulations
Posted On January 22, 2018
---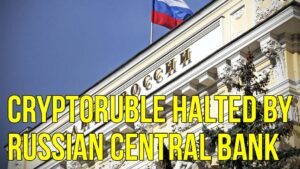 Russia's national cryptocurrency, the Cryptoruble, is unlikely to be created as planned for the near future, according to the Bank of Russia. The central bank believes that the fiat cryptocurrency could be used to bypass regulations. Meanwhile, the finance ministry wants to use the Cryptoruble for cross-border payments.
The first deputy governor of the Bank of Russia, Sergey Shvetsov, said at the Gaidar Forum this week that "The appearance of a Cryptoruble in the foreseeable future is unlikely," Tass reported.
Shvetsov elaborated:
I'm of the opinion that as long as the demand for cryptocurrencies is linked to a large extent with the bypass of regulations, it is clear that the regulator cannot afford to issue a Cryptoruble, which will allow to bypass regulations.
The Bank of Russia first deputy chairman, Olga Skorobogatova, shared that view, stating previously that she did not see any need for a Cryptoruble.
However, Skorobogatova said that the central bank is considering introducing a supranational digital currency within the BRICS or the Eurasian Economic Union (EAEC).
Meanwhile, Deputy Finance Minister Alexei Moiseev told reporters that his ministry "supports the idea of using a Cryptoruble in cross-border settlements."
Moiseev stated:
"The issue on which to focus now is the use of electronic money, a Cryptoruble, in cross-border settlements. Settlements with our leading trading partners, at least the countries of the former USSR, could be made not in a foreign currency but in electronic rubles."
However, Moiseev may not be referring to a cryptocurrency, as he previously expressed, "To be honest, I do not even understand what a Cryptoruble is…I understand what an electronic ruble is."
Early this month, Russia's president Vladimir Putin commissioned work to create a Cryptoruble as a tool to circumvent international sanctions. Putin first ordered the creation of the Cryptoruble in October of last year, Coinivore reported.
In an interview with Hi-Tech Mail, the Russian Association of Blockchain and Cryptocurrency (RACIB) Arseny Shcheltsin estimated that the Cryptoruble would not appear in Russia until at least the middle of next year. "If the proposal on the Cryptoruble will be put forward in July as part of the president's instruction, the normative documents will be drafted and introduced in the fall," Shcheltsin said.
"They should be agreed at the end of the year, and the launch of the currency will take place in the middle of 2019," Shcheltsin added.
This comes as Venezuela is preparing to release its own cryptocurrency deemed the Petro, which the Venezuelan government expects to be released in just 5 more weeks.
Bitcoin is currently trading at [FIAT: $11,894.20] down -0.58% at the time of this report according to Coin Market Cap.
Want an edge in the crypto markets? Subscribe to our free newsletter. Follow Coinivore on Facebook, at Twitter and Steemit.
---
You may also like