South Korea Releases Guidelines For Cryptocurrency Exchanges, Traders and Banks
Posted On January 24, 2018
---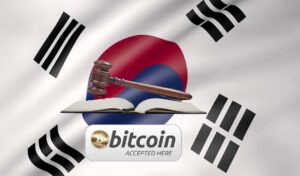 On Tuesday, South Korean government officials released a document containing the guidelines for cryptocurrency regulations, Bitcoin News reported.
The announcement was made by Vice Chairman of the Financial Services Commission (FSC), Kim Yong-bum.
The document detailed the government's Special Measures for the Elimination of Virtual Currency Speculation which was first announced on December 28th, which was followed by false reports that South Korea was banning exchanges. In addition, the government also announced on Tuesday its anti-money laundering (AML) guidelines, prepared by the Korean Financial Intelligence Unit (FIU), an FSC division, for all banks dealing with cryptocurrency accounts to follow.
The new government-mandated guidelines include real-name account system and AML which requires suspicious transactions to be reported to authorities. This system will replace banks' current practice of virtual account issuance. Virtual accounts are issued by banks for cryptocurrency exchanges' customers to use to deposit and withdraw their money.
The real-name system goes into effect at the end of the month on January 30th for deposit and withdrawal services to cryptocurrency accounts. Existing virtual accounts will be converted to real-name ones at that time. Six major banks will implement the new system including Shinhan Bank, Nonghyup Bank, Kookmin Bank, Hana Bank, and Gwangju Bank.
Customers need to open an account at the bank providing virtual account services to the exchange they are using. "New members should be added after strict identification procedures," Kim Yong-bum was quoted stating by Joongang Ilbo according to the document:
"Users who do not have an account at the same bank as the virtual bank will not be able to make additional payments to the virtual bank account, but they can withdraw money…Foreigner and minors under the Civil Law cannot use real name confirmation deposit and withdrawal account service," the document stated.
Earlier this month, the FIU and the Financial Supervisory Service (FSS) conducted on-site inspections of the country's 6 major banks to ensure they have fulfilled their anti-money laundering obligations.
This comes after South Korea's Justice Minister recently proposed a trading ban and the government has put other controls into place in the face of what some see as a "cryptocurrency mania" in the country. This caused Reuters and other MSM outlets to falsely state that South Korea planned to ban cryptocurrency trading.
South Korea then erupted into a riot, petitions were filed and this resulted in the government issuing a clear decree that they weren't banning cryptocurrency trading. Even if South Korea were to ban cryptocurrency trading, it would take years, as a Wired article pointed out that is ignored completely by MSM.
This also comes as South Korea announced an official ban to all future and current ICOs (Initial Coin Offerings) at the end of September.
Bitcoin is currently being traded at [FIAT: $11,126.70] according to Coin Market Cap at the time of this report.
Want an edge in the crypto markets? Subscribe to our free newsletter. Follow Coinivore on Facebook, at Twitter and Steemit.
---