Market Spirals As Three Major U.S. Banks Ban Credit Card Purchase Of Cryptocurrency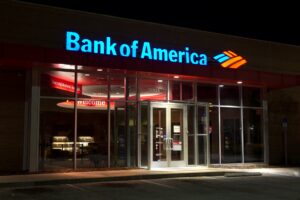 The markets are continuing to spiral as on Friday, three major banks – Bank of America, JPMorgan Chase and Citibank will reportedly no longer allow customers to purchase Bitcoin with their credit cards starting in February, citing extreme price volatility and anti-money laundering laws, Bloomberg reported.
JPMorgan is expected to have started its ban on Feb. 3 due to concerns about the credit risk of those who make purchases through their cards.
The Bank of America ban is limited to credit cards, and will not impact customers who wish to purchase cryptocurrencies using debit or ATM cards, according to the news source.
Bloomberg further reported that the Bank of America cited anti-money laundering regulations for the move, as well as the potential for thieves to convert stolen credit cards into cryptocurrency stashes.
Like JPMorgan, Bank of America is also concerned with the idea customers can purchase more cryptocurrency than they can afford. Other banks have purportedly moved to increase charges for crypto transactions in recent weeks.
"At this time, we are not processing cryptocurrency purchases using credit cards, due to the volatility and risk involved," a J.P. Morgan Chase spokesperson said in a statement to CNBC. "We will review the issue as the market evolves."
To add to the woes of cryptocurrency investors Lloyds Banking Group a major UK bank on Monday joined the U.S. in banning purchases of Bitcoin and other cryptocurrencies via credit card amid debt and security concerns, Phys.org reported.
An LBG spokesman said the ban was across its Lloyd Bank, Bank of Scotland, Halifax and MBNA branded credit cards.
The decision to ban Bitcoin purchases with certain credit cards comes after an unprecedented run-up at the end of 2017, which followed by a sharp decline due to a massive push of FUD (fear uncertainty and doubt.)
Over the past year, Bitcoin has surged more than 700%, reaching highs of $20,000 in December of last year. On February 2, however, Bitcoin reached lows of under $8,000 – and some inexperienced investors who FOMO'd (Fear of Missing Out) into the cryptocurrency market at its all-time high using credit may have already panic sold.
Capital One and Discover have previously said that they won't allow their cards to be used for cryptocurrency transactions.
So what are cryptocurrency enthusiasts to do?
The ban mostly affects credit cards and does not influence debit cards; however, if your bank is blocking cryptocurrency transactions the answer is simple and obvious – find a new bank.
Bitcoin is currently trading at [FIAT: $7,361.90] as it continues to plunge -13.40% in the last 24 hours according to Coin Market Cap at the time of this report.
Want an edge in the crypto markets? Subscribe to our free newsletter. Follow Coinivore on Facebook, at Twitter and Steemit.