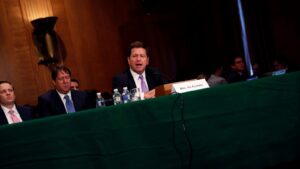 The U.S. Congress held what may be the most consequential hearing in years on the subject of cryptocurrency, with the heads of the two main U.S. financial market regulators the CFTC and SEC.
J. Christopher Giancarlo, chairman of the Commodity Futures Trading Commission, and Jay Clayton, his counterpart at the Securities and Exchange Commission (SEC), testified on Capitol Hill.  Both stated they were  "open" to federal regulation of cryptocurrency exchanges, according to a transcript.
Currently, cryptocurrency brokerages in the U.S. have generally registered as "money-transmission services," which are regulated at the state level and do not fall under the direct purview of either the SEC or the Commodity Futures Trading Commission (CFTC).
In recent months, the two agencies have, between them, filed lawsuits against alleged scams, launched investigations against ICOs, forced others to close, oversaw the launch of Bitcoin futures, issued warnings to investors and, come to terms with a rapidly-evolving space that has, in the words of their leaders, tested the limits of their reach.
In September the SEC  launched a "Cyber Unit" to combat online threats and "protect retail investors" in cryptocurrency.
Ahead of the hearing, copies of both Clayton's and Giancarlo's testimony were released to the public.
Clayton expressed that he believed cryptocurrency trading platforms are functionally more akin to "securities, commodities, and currency exchanges," which are regulated at the federal level and overseen by either the SEC or CFTC.
"Traditionally, from a function perspective, these money transfer services have not quoted prices or offered other services akin to securities, commodities and currency exchanges," Clayton testified. "In short, the currently applicable regulatory framework for cryptocurrency trading was not designed with trading of the type we are witnessing in mind."
Yet such an undertaking would, in their view, require an act of Congress – as well as close involvement with the regulatory agencies.
However, Clayton commented in his written remarks that he is "open" to working with U.S. lawmakers, in addition to state regulators, on the question of new rules for trading sites.
"As CFTC Chairman Giancarlo and I stated recently, we are open to exploring with Congress, as well as with our federal and state colleagues, whether increased federal regulation of cryptocurrency trading platforms is necessary or appropriate," Clayton testified "We also are supportive of regulatory and policy efforts to bring clarity and fairness to this space."
CFTC Chairman J. Christopher Giancarlo agreed while he further stated that although the current regulatory framework may not adequately protect investors, any federal regulation of cryptocurrency exchanges should be "carefully tailored" to specific risks such as fraud and market manipulation and should strive to "do no harm" to the emerging digital ledger technology (DLT) space.
"Appropriate federal oversight may include: data reporting, capital requirements, cyber security standards, measures to prevent fraud and price manipulation and anti-money laundering and 'know your customer' protections," he will testify. "Overall, a rationalized federal framework may be more effective and efficient in ensuring the integrity of the underlying market."
The markets reacted yesterday with Bitcoin plunge to a low of [FIAT: $6,000], slightly beginning to recover today.
Bitcoin is currently trading at [FIAT: $6,915.51] according to Coin Market Cap at the time of this report.
Want an edge in the crypto markets? Subscribe to our free newsletter. Follow Coinivore on Facebook, at Twitter and Steemit.