Coinbase Launches Cryptocurrency Commerce Service For Merchants; Partners With Shopify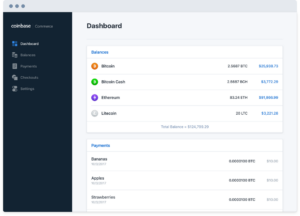 Coinbase has launched a new Commerce service self titled Coinbase Commerce to help online stores handle payments in four leading cryptocurrencies – BTC, ETH, Bitcoin Cash, and LTC, according to Coinbase in a Medium post.
The company seeks to expand its market by letting potential merchants add cryptocurrency payments into their portfolio allowing the seamless mainstream adoption of cryptocurrency to complete its mission to "create an open financial system."
Online retailers and big and small businesses everywhere can now use Coinbase Commerce to accept Bitcoin (BTC), Bitcoin Cash (BCH), Ethereum (ETH) and Litecoin (LTC) payments for services and goods directly into a user-controlled wallet.
The developers of Coinbase Commerce say that the new service can be easily integrated into a merchant's checkout. Requiring only an email address and a phone, merchants can sign up and begin accepting crypto payments for their stores. The service has already been integrated with Canada-headquartered Shopify (NYSE: SHOP), which is one of the largest multi-channel commerce platforms, sporting an impressive 500,000 retailers with a total gross merchandise volume exceeding $45 billion a year.
The best part is that the service isn't only limited to the U.S. but is allowing businesses worldwide to accept cryptocurrency for goods and services.
Coinbase reportedly made $1 billion in revenue last year, according to Recode, and the cryptocurrency exchange claims to have served over 10 million users on its platform.
This comes as world leaders are calling for a "clamp down" on cryptocurrency and planning to meet in March at the G20 and discuss regulations for digital currencies. Major banks also recently banned credit card purchases of cryptocurrency citing anti-money laundering regulations for the move, as well as the potential for thieves to convert stolen credit cards into cryptocurrency stashes.
In August of last year, retail giant Overstock.com started accepting cryptocurrency payments, integrating with ShapeShift, allowing customers to purchase goods from its popular website. The move by Coinbase may enable other businesses to easily integrate and start accepting payments in the four leading cryptocurrencies minus Ripple.
This incredibly positive news about Coinbase has given the market confidence again, as Bitcoin has risen to the psychological 10K mark again, after losing 60% of its value due to a negative news cycle which took away investors confidence and caused a week-long bloodbath.
Bitcoin is currently trading at [FIAT: $9,950.16] after dipping slightly from its earlier height of 10K according to Coin Market Cap at the time of this report.
Want an edge in the crypto markets? Subscribe to our free newsletter. Follow Coinivore on Facebook, at Twitter and Steemit.