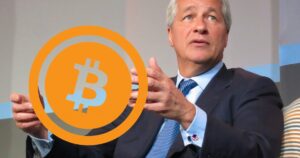 JP Morgan Chase filed an Annual Report for 2017, and what was exposed is nothing short of hilarious. JP Morgan, run by cryptocurrency fudder Jamie Dimon, finally admitted they are scared of cryptocurrency disrupting their business model.
The document is normally just for shareholders; this year, however, the report contained an unusual insight into the financial institution's mindset.
Under the section Competition, deep in the report, JP Morgan writes:
"The financial services industry is highly competitive, and JPMorgan Chase's results of operations will suffer if it is not a strong and effective competitor. JPMorgan Chase operates in a highly competitive environment, and expects that competition in the U.S. and global financial services industry will continue to be intense," the report read.

"These advances have also allowed financial institutions and other companies to provide electronic and internet-based financial solutions, including electronic securities trading, payment processing and online automated algorithmic-based investment advice. Furthermore, both financial institutions and their non-banking competitors face the risk that payment processing and other services could be disrupted by technologies, such as cryptocurrencies, that require no intermediation. New technologies have required and could require JPMorgan Chase to spend more to modify or adapt its products to attract and retain clients and customers or to match products and services offered by its competitors, including technology companies," the document stated.

Cryptocurrencies can have the eventual impact of putting "downward pressure on prices and fees for JPMorgan Chase's products and services or may cause JPMorgan Chase to lose market share," the report revealed.
Another noteworthy newsy passage of the report may foretell what JP Morgan's next steps are with cryptocurrency.
"Increased competition also may require JPMorgan Chase to make additional capital investments in its businesses, or to extend more of its capital on behalf of its clients in order to remain competitive," the report stated.
In other words, JP Morgan Chase may have to join cryptocurrency or allow derivatives to stay in the game and remain competitive.
Last year, Jamie Dimon bashed Bitcoin and cryptocurrency in general for months increasing the fud then in September JP Morgan purchased the Bitcoin exchange-traded note (ETNs) trading on Nasdaq's Stockholm exchange on the dip. As a result, Dimon was accused of market manipulation violating European market abuse laws causing a flash crash according to a complaint filed to the Swedish financial regulator.
JP Morgan doesn't just purchase Bitcoin ETFs, the company is also heavily involved with the 'blockchain fever' that has infected banks across the world. The financial firm has applied for a "Bitcoin alternative" patent with the U.S. over 175 times in 2013 being rejected every time. JP Morgan is also working on an Ethereum-based blockchain alongside, according to people familiar with the matter, working with Zcash development as well.
Earlier this year, Dimon admitted that he was wrong and regretted calling Bitcoin and cryptocurrency a fraud in general. As JP Morgan's annual report details, Dimon is just scared that cryptocurrency will surpass his bank, with good reason since the whole cryptocurrency market cap has surpassed JP Morgan's own evaluation. The entire market cap of cryptocurrencies has even surpassed that of Apple's own market cap.
Bitcoin is currently trading at [FIAT: $11,515.00] according to Coin Market Cap at the time of this report.
Want an edge in the crypto markets? Subscribe to our free newsletter. Follow Coinivore on Facebook, at Twitter and Steemit.