Happy Bitcoin Pizza Day 8 Years Ago Today Someone Spent $82 Million On Two Pizzas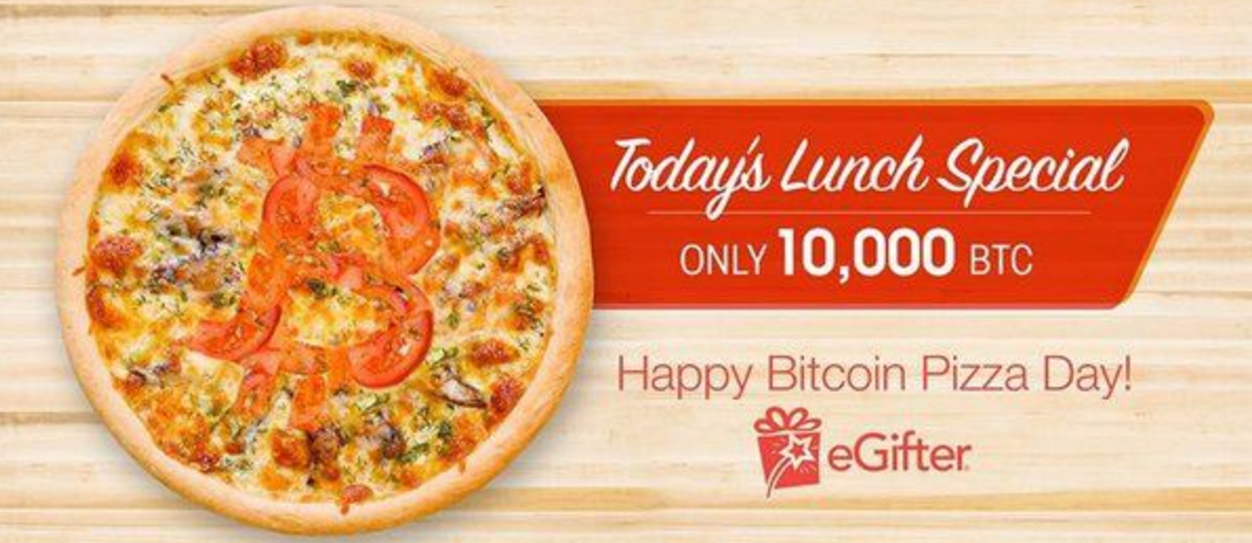 Eight years ago today in 2010 the first exchange of Bitcoin for a pair of Papa John's pizzas took place. Bitcoiners everywhere now celebrate this legendary time in history as "Bitcoin Pizza Day."
We all have heard our own share of Bitcoin horror stories, but this one takes the cake, or rather the pie.
At a total cost of 10,000 Bitcoins, it was a milestone for the adoption of cryptocurrency and one that has since been commemorated though the celebration of May 22nd as "Bitcoin Pizza Day."
In mid-May of 2010, a programmer named Laszlo Hanyecz attempted to exchange some of his Bitcoins for pizza – several days later, he was able to do so with the aid of a fellow user of the Bitcoin Talk online forum.
A deal was struck: "10,000 BTC now valued at [FIAT:$82 million] according to Bitcoin Pizza Index for two Papa John's pizzas." That shocking amount of BTC was worth a mere $25 at the time, or a fraction of a penny per BTC.
Yet at the time, it wasn't about the Bitcoins spent or the product involved – the event itself was a milestone simply because of the transaction.
On that date, Bitcoin traded at around $0.004, making the two pizzas Laszlo Hanyecz ordered from Papa John's for 10,000 BTC cost $41.
"I'll pay 10,000 bitcoins for a couple of pizzas… like maybe 2 large ones so I have some left over for the next day. I like having leftover pizza to nibble on later," Hanyecz wrote on Bitcointalk in 2010, attempting to find support for the transaction. The famous post continues:
"You can make the pizza yourself and bring it to my house or order it for me from a delivery place, but what I'm aiming for is getting food delivered in exchange for bitcoins where I don't have to order or prepare it myself, kind of like ordering a 'breakfast platter' at a hotel or something, they just bring you something to eat and you're happy!"
"It wasn't like bitcoins had any value back then, so the idea of trading them for a pizza was incredibly cool," Hanyecz said in a 2013 interview with The New York Times, adding:
"No one knew it was going to get so big."
Still, the tradition lives on, with the purchase being used to track other notable bitcoin milestones, while the day is usually jam-packed with celebration by the Bitcoin community.
This year, exchange BTCC noted that ordering pizza for its office has become cheaper and cheaper in BTC over the years since 2016. While French hardware wallet manufacturer Ledger meanwhile released a limited edition device in honor of  "Bitcoin Pizza Day."
It's #Pizza #Day at #BTCC! Fun fact: We spent 2.00 BTC on pizzas for the office in 2016, last year we spent 0.40 BTC, and this year we spent just 0.09 #BTC. Do you think #bitcoin price will be higher or lower next year? pic.twitter.com/yjVSeMskFP

— BTCC (@YourBTCC) May 22, 2018
Cryptocurrency trading platform and brokerage firm eToro sent a "literal bitcoin pizza" to the offices of financial publication Business Insider UK.
It's #BitcoinPizzaDay so @eToro sent us some literal bitcoin pizza pic.twitter.com/SDaMNYiBJZ

— Oscar Williams-Grut (@OscarWGrut) May 22, 2018
Satoshi Labs, meanwhile, celebrated with a pineapple-and-jalapeno-topped pie — a recipe the group described as Satoshi's true vision.
If you're extremely lucky, you can celebrate Bitcoin Pizza Day at a restaurant that accepts bitcoin directly – you can find one via CoinMap.
If you're not so lucky, you can still use your BTC to purchase a gift card to your favorite pizza restaurant via Gyft and eGifter, two popular gift card suppliers that accept Bitcoin. Although you won't be spending anywhere near 10,000 BTC.
Hanyecz  later participated in purchasing a pizza using the  Lightning Network after he used the next-generation technology, now in development, to purchase a pie in February, CoinDesk reported.
Bitcoin is currently trading at [FIAT: $8,224.96] according to Coin Market Cap at the time of this report.
Want an edge in the crypto markets? Subscribe to our free newsletter. Follow Coinivore on Facebook, at Twitter and Steemit.