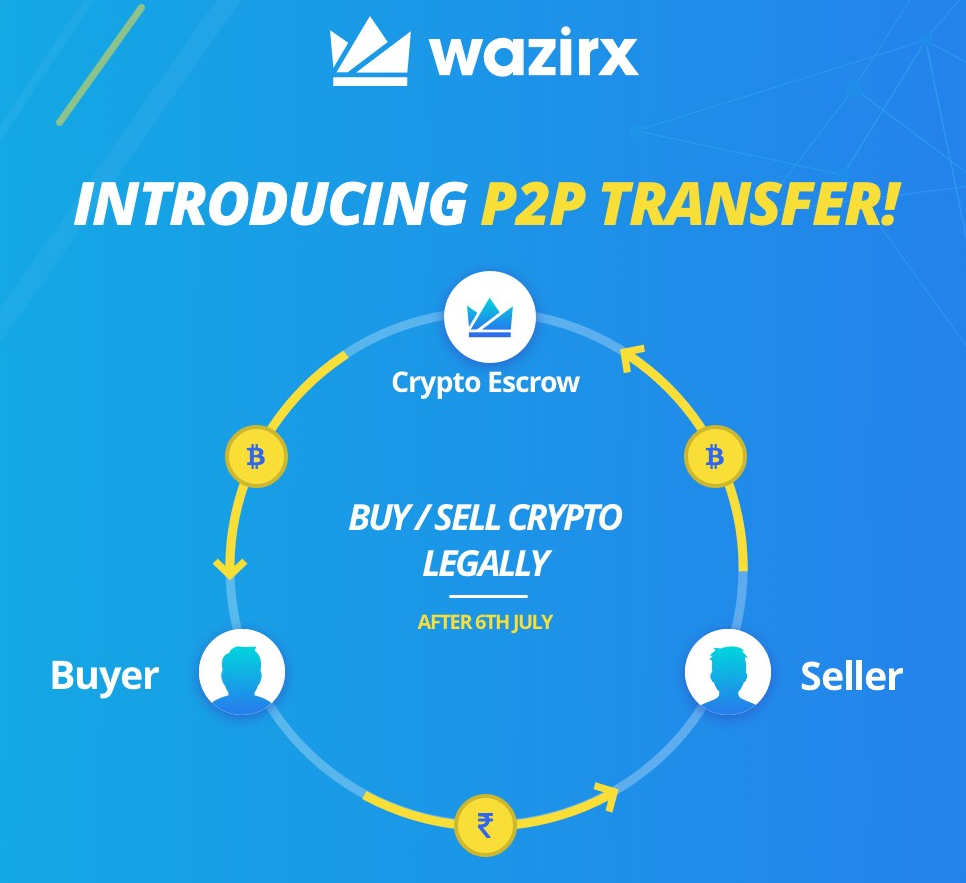 Indian cryptocurrency exchanges have a  loophole solution to the crypto banking ban imposed by the Reserve Bank of India. Numerous exchanges have stopped fiat support as they push for peer-to-peer and crypto-to-crypto trading where exchanges will act an escrow for customer's funds and allow traders to buy and sell crypto legally, Bitcoin News reported.
The crypto banking ban by the Reserve Bank of India (RBI) went into effect at the end of last week. The central bank issued a circular three months ago, banning all financial institutions under its control from providing services to companies dealing in cryptocurrencies. As a result, exchanges have had to resort to other methods to stay afloat financially and keep their doors open.
Three exchanges in India Zebpay, Pexo, and Coinome were of the first crypto exchanges to announce a suspension of fiat deposits and withdrawals.
While other exchanges announced similar happenings at the business suspending fiat trading going forward and shifting to a crypto-to-crypto model.
Wazirx announced on July 4th, "We've discontinued INR deposits with immediate effect," adding:
"Our banking partner has abruptly stopped supporting our bank account. This is due to the recent RBI circular banning banks from providing support to cryptocurrency exchanges."
Koinex also had an announcement on July 7th that users can "submit INR withdrawal requests till 02.00 PM on July 9th, 2018 (Monday) after which no further INR withdrawal requests will be accepted."
Buyucoin a third Indian exchange announced last week that "Deposit and Withdrawal will be halted until further notice due to RBI circular by midnight 5th of July '18."
Amid RBI's ban, several Indian crypto exchanges have been pushing for solutions to continue business after the ban. Among those proposed solutions is P2P trading, where the exchange acts as an escrow service between two customers for each fiat to crypto trade.
While Wazirx has been preparing to launch a P2P trading service. The exchange announced on July 8th, "WazirX P2P is launching in a few days."
Koinex is also gearing up to launch its P2P service called Loop. Citing that "the INR/crypto trading corridor may be discontinued over the next few days with prior notice," the exchange revealed on July 7th, "after that, users will be able to trade via Koinex Loop and True USD corridors for fiat stability."
The exchange further elaborated:
"Loop is a peer-to-peer transaction network for digital assets using fiat currency. Koinex users will automatically find their KYC-verified Loop accounts ready upon release. Loop is in the final stages of development and will be released before July 15, 2018."
Meanwhile, numerous exchanges have announced or started crypto-to-crypto trading services and pairs, similar to how Binance and Poloniex operate.
This showcases something similar we saw last year after China's ICO ban and force closure of exchanges, users utilizing peer 2 peer methods to continue crypto through broker-facilitated, riskier over-the-counter peer 2 peer trading. However, this practice is riskier than trading with an exchange because there is no trusted escrow or middleman, so traders risk getting scammed.
In this sense, this represents resiliency it is unlikely Bitcoin or any cryptocurrency will be harmed in the long term. The resiliency of the technology will emerge while under duress from various governments of the world; we have reached the war phase of cryptocurrency. What governments haven't realized is that cryptocurrency is Pandora's Box opened and there is no stopping decentralization.
Governments have lost control, and there is no real way to stop cryptocurrency; you can not stop decentralized pseudo anonymous code with a value from getting into the hands of people. Digital assets are here to stay for the long haul, they aren't going away.
Bitcoin is currently trading at [FIAT: $6,798.23] down -0.76% according to Coin Market Cap at the time of this report.
Want an edge in the crypto markets? Subscribe to our free newsletter. Follow Coinivore on Facebook, at Twitter and Steemit.