In the early days, it was very difficult to buy or withdraw bitcoin through a US bank account. Anyone even suspected of doing it had their accounts shut down. However, today there are many convenient ways to convert bitcoin into US dollars in your bank.
One reason you may want to convert bitcoin to cash is to pay your bills. You may also want to cash out bitcoin when the price is in decline to protect yourself from losses. Or perhaps you're a merchant who wants to accept bitcoin but instantly withdraw to dollars.
This article reviews services you can use to withdraw bitcoin to your bank. The services vary in their ease of use, speed, costs, and limits on the amount you can transfer. It usually takes from 1-5 days to get your money to your account.
These services to transfer bitcoin to usd require that you comply with Know Your Customer (KYC) guidelines which financial services use to verify the identity, suitability, and risks involved in a business relationship. The KYC procedures are part of the Anti-Money Laundering (AML) policy.
KYC policies usually include the following features:
Customer identification procedures
Customer acceptance policy
Monitoring of transactions
Bitcoin to bank services are typically licensed exchanges that use ACH transfers from their bank to yours. "An ACH transfer is an electronic, bank-to-bank transfer processed by the Automated Clearing House network."
Besides banks, ACH is used by payment apps like Venmo, PayPal, and Zelle. In the last year, the cost of ACH transfer has come down and settlement times have quickened.
When you sign up for payment apps, you typically connect your bank account. That allows for speedy deposits and withdrawals in and out of the app. It works the same way for withdrawing bitcoin to your bank account as dollars.
In converting bitcoin to cash, consider such things as the cost and ease of the cash out method, where you want your cash deposited (bank account, PayPal, etc.), how long you want to wait to receive your money, and how frequently you plan to use that service.
Top 5 Services to Convert Bitcoin to USD Bank Accounts
The following services are how to withdraw bitcoin to USD in your bank. They offer a variety of options and methods. Transferring bitcoin to a bank account may initially seem challenging. However, it usually only takes a few minutes.
Every platform has its own procedure of exchanging bitcoin for cash, but each can be easily understood and performed quickly. If you plan to cash out bitcoin, look through the offers of these popular platforms and choose the one most suitable for your needs.
CashApp
CashApp is a popular payment app where you link your bank account to cash out bitcoin. You get $5 just for trying the app by entering the code NRXKJTL after you download the app – click Profile icon, then click Referral Code, enter NRXKJTL in window and click Enter. (see below)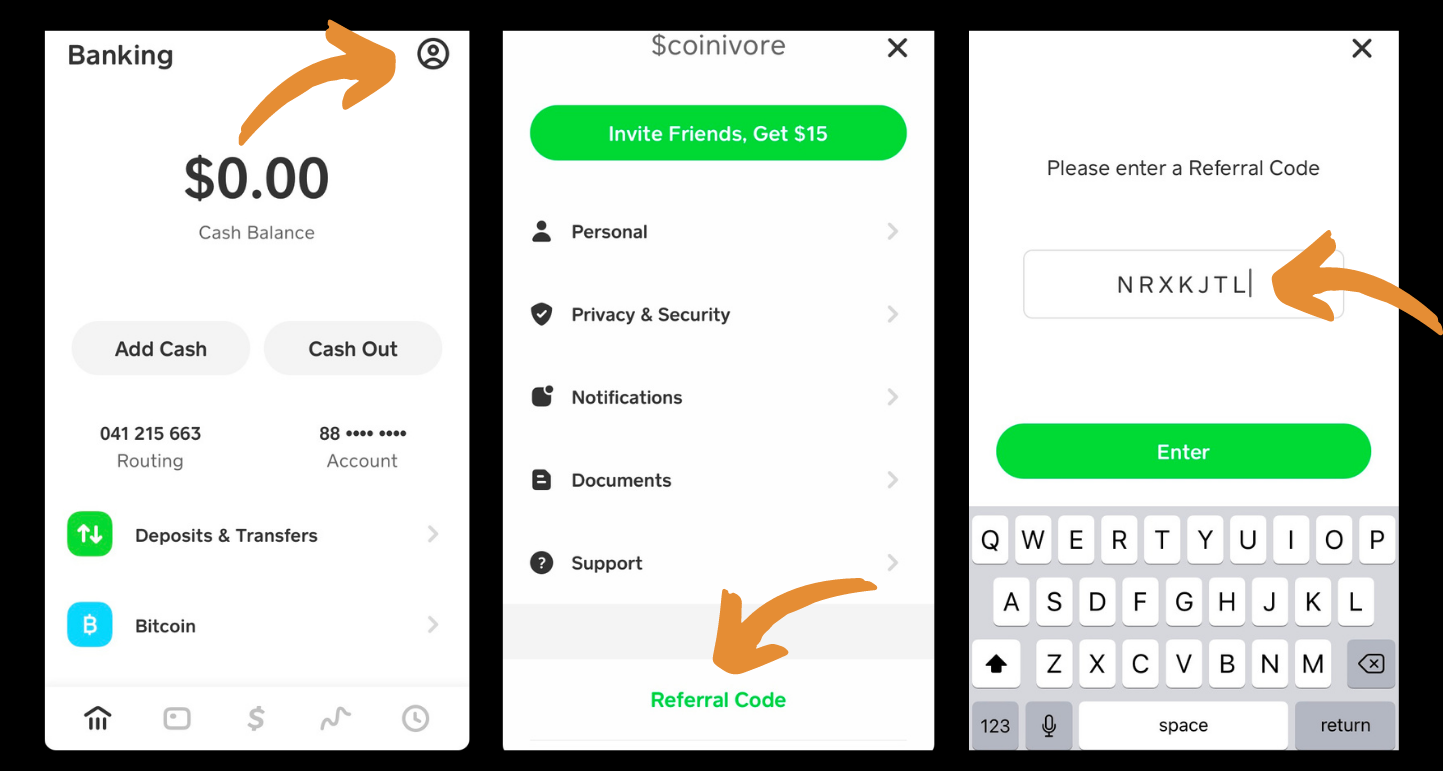 CashApp was the first mainstream payment app to support Bitcoin. You can buy, hold and sell bitcoin in the app. CashApp requires that you convert bitcoin to dollars before withdrawing to your bank account which may have a small fee. CashApp offers Instant Transfers to bank accounts with a 1.5% fee. So if you withdraw $1000, the fee is $15. Slower ACH withdrawals are free.
Steps to withdrawing bitcoin from CashApp:
Click Sell Bitcoin
When USD hits your balance, click Withdraw
Speed: Instant transfers (1-3 days for special circumstances)
Cost: 1.5% for instant transfers
Limit: $2000/day, $5000/week
KYC: Yes
Coinbase
Coinbase was the first major service to connect your bank account to buy and cash out bitcoin. Today Coinbase is one of the world's most popular cryptocurrency exchanges and and easiest ways to buy your first bitcoin. Coinbase also has one of the best cryptocurrency wallet apps for smartphones.
Residents of both the US and EU can use Coinbase to transfer bitcoin to their bank accounts. You must withdraw to the same bank account that you deposited with to make sure brokers do not break money laundering laws.
Coinbase withdrawal instructions:
Coinbase only allows you to sell directly into your Coinbase fiat wallet. After selling to your Coinbase fiat wallet, you can opt to either withdraw funds to your US bank account or repurchase cryptocurrency on the platform.
To sell cryptocurrency:
Select the Trade button
Select Sell
Select the crypto you want to sell and have it sell to your USD wallet
Then select your USD wallet and select Withdraw
Speed: ACH transfers to US bank accounts takes up to 5 days.
Cost: Coinbase charges a 1% fee to convert bitcoin to USD in addition to standard network fees. Bitcoin (BTC) network fees can be high during bull markets.
Limit: Coinbase Pro users can withdraw up to $25,000 daily.
KYC: Yes, open Coinbase account and connect bank.
Uphold
Uphold is a cryptocurrency platform where you can easily connect your bank account for deposits and withdrawals. Uphold serves 184+ countries, across multiple cryptocurrencies and commodities. They do not charge a fee to withdraw funds. Instead they collect a 1% spread when you convert bitcoin to dollars or any other asset on their exchange.
Uphold put together a short video how to withdraw bitcoin to your US bank account:
Speed: ACH up to 5 days
Cost: Free. Uphold doesn't charge a withdrawal fee as they collect a small spread on the bitcoin price.
Limit: $5 minimum, $10,000/day maximum.
KYC: Yes, register and link bank account.
Gemini
Gemini is a licensed cryptocurrency exchange in the United States where you can easily link your US bank account. Gemini requires KYC, but they make it easy to add required information. You are able to use an account without full KYC verification, but it's needed to increase buying and withdrawal limits.
Watch video below to see how easy it is to withdraw cryptocurrency from Gemini to your bank account:
Speed: ACH, 4-5 business days
Cost: Free, Gemini collects a spread on currency conversions.
Limit: $100,000 USD daily.
KYC: Yes, full KYC.
Paxful
Paxful is a peer-to-peer exchange known as the "Bitcoin Uber." They offer over 350 ways to buy and sell bitcoin with dollars being transferred to your bank account. You can choose how to receive USD to your bank via Zelle, ACH or Domestic Wire Transfer.

At Paxful, you can also convert bitcoin to dollars through Venmo, CashApp, Google Pay, and many other payment apps. Paxful is one of the easiest places to buy cryptocurrency.
Speed: Depends on method. Bitcoin held in escrow until funds arrive.
Cost: .5% for bank transfers
Limit: No upper limit indicated
KYC: Yes, ID and selfie.
MORE RECOMMENDED READING:
11 Best Cryptocurrency Wallet Apps
Hardware Wallets: Comparing Ledger vs Trezor vs KeepKey