When you buy cryptocurrency, they are stored in a "wallet" with a private key and a public key (aka "public address") to send and receive your coins. Each key consists of a long string of alphanumeric characters that help keep your holdings secure. The public address is where funds are deposited and received.
Your unique private key helps protect your cryptocurrencies from unauthorized access and theft. Think of a public address as a mailbox and the private key as the key to the box. If you lose your private key, you can no longer access the wallet to spend, withdraw, or transfer coins. It is, therefore, imperative to save the private key in a secure location. You can choose a hot wallet connected to the internet or any of three kinds of cold storage wallets which are offline and are therefore more secure.
Different Types of Cryptocurrency Wallets
1. Hot wallets (aka "software" wallets) store private keys on devices or systems connected to the internet. These wallets include desktop wallets, browser wallets, mobile wallet apps, and web-based custodial wallets (e.g. Coinbase). In 2019, a record-breaking  $4 billion was stolen from cryptocurrency exchanges, underscoring just how critical it is for you to control your own assets. Although most exchanges have top-tier security technologies including two-factor authentication, they don't guarantee 100% security. Hacking scandals are common in the crypto realm and no exchange can avoid it. So, even if you have your cryptos on exchanges that have not seen major controversies, online wallets are not recommended for long term storage. (It is recommended that you get one of the three hardware wallets reviewed below)
How and Where To Buy Your First Bitcoin explains how to get a wallet on an exchange to make your first bitcoin purchases and reviews the three best cryptocurrency exchanges for beginners.
2. Paper wallets are cold wallets which use documents printed with the private key and QR code to be scanned when a transaction is signed. Paper wallets were popular in the early bitcoin years.
3. Hardware wallets are cold wallets that may use USB devices or smartcards to generate and secure private keys offline. Hardware wallets are by far the most secure type of bitcoin wallet as they store bitcoins on a physical piece of equipment that is usually plugged into a computer via a USB port. They are practically immune to virus attacks and few instances of bitcoin theft have been reported. These devices are the only bitcoin wallets that are not free and they often cost $100 to $200.
This article reviews three popular hardware wallets: Ledger, Trezor, and KeepKey.
Ledger: Nano S and Nano X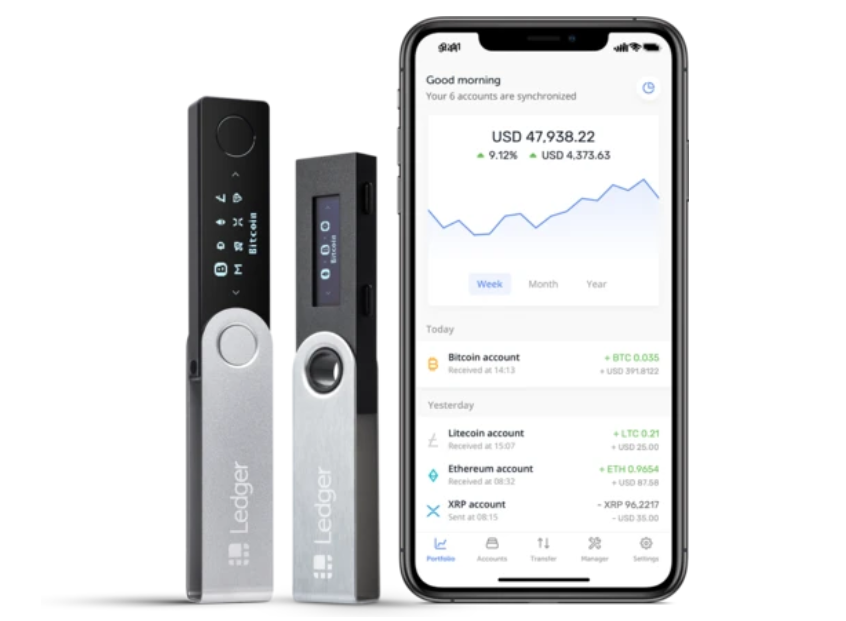 Ledger, located in Paris, France, was founded in 2014 and has a team of over 130 professionals. It is a leader in security and infrastructure solutions for cryptocurrencies and blockchain applications. The Ledger is the most popular hardware wallet with more than 1.5 million units sold in 165 countries.
Ledger offers two hardware wallets. The Ledger Nano S was launched in 2016 with the objective of creating a new security standard for safeguarding crypto assets. The Nano S was one of the first hardware wallets and dominated for a number of years. It revolutionized cryptocurrency cold storage.
The Ledger Nano X , released in 2019, is one step ahead of other hardware wallets. While the Nano S works only with desktop computers and Androids, the Nano X has Bluetooth connectivity, making it the first hardware wallet to connect with iOS devices. While the Nano S can store only 18 assets, the Nano X can hold 100 assets simultaneously. Bluetooth, its increased capacity for coins, and its slightly larger screen make the Nano X a powerhouse. It costs $119 which is twice the price of the Nano S.
Ledger devices come with Ledger Live, an app that lets you buy, sell, or trade 26 coins and more than 1,500 tokens. For crypto not supported on Ledger Live, you can use one of the compatible external wallets to manage your crypto. Ledger Live allows you to check your real-time balance. Always install Ledger Live from https://www.ledger.com/ to avoid scams.
When initializing your Ledger for the first time, you will be prompted to write down 24 words on a Recovery Sheet. This unique list of words is generated by your hardware wallet. These 24 words are called a Recovery Phrase and are a human-readable back-up from which all your private keys are derived. They are used to restore access to your crypto assets on another Ledger device or any other compatible wallet. Ledger has never been hacked.
Ledger says there are 5 basic golden rules in using a hardware wallet:
Never share your 24-word Recovery Phrase, in any form, with anyone.
Never store your Recovery Phrase on a computer or cellphone.
Keep your Recovery Sheet secure so you can't lose or destroy it by accident.
Verify your receiving address and payment information on your device.
Treat information on your computer or cellphone with caution. Software can get compromised.
Root of Trust Ensures Your Ledger Is Genuine
Never buy a second-hand hardware wallet. Do not purchase one from eBay or Amazon because it could be compromised. You can use Ledger's Root of Trust tool to verify that your Ledger is uncompromised.
The Ledger site says:
"It is paramount to ensure that your device is genuine. An attacker could otherwise have replaced a genuine device by a fake and backdoored one. In this case, he would be able to access to crypto assets. As cryptocurrencies are a high value target for attackers, a real security mechanism is required to make sure your device is a genuine one. Ledger uses a cryptographic mechanism to check if your device is a genuine Ledger hardware wallet. We use a validation process based on a Root of Trust. Leveraging a Root of Trust for our hardware wallets is essential for security. This genuineness mechanism allows us to block fake devices pretending to be real Ledger hardware wallets. Furthermore, you will be able to update your device without the risk of a rogue firmware or app being installed. This helps protect your crypto assets."
TREZOR Wallets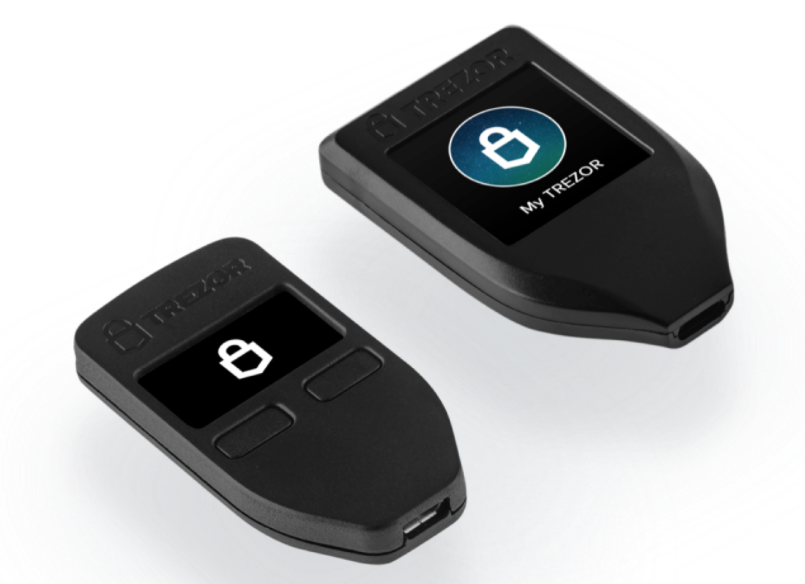 Trezor is made by SatoshiLabs, founded in 2013 in the Czech Republic. The TREZOR One , released in 2014 ($59), can't compete with the Ledger Nano X. The Model T, introduced in 2018, is considered the best hardware wallet for people who want to use a large number of cryptocurrencies because it supports nearly 1,400 different cryptos. There is no limit to the number of wallets you can have simultaneously. Some consider the Model T to be a bit more secure than the Ledger Nano X due to the X's Bluetooth connectivity. However, Ledger users can avoid using Bluetooth.
The Model T utilizes a touch screen which can be easier for beginners than the buttons on the TREZOR One. However, the small screen can be hard to type on. The Model T also has a MicroSD card slot that allows you to use the MicroSD cards to encrypt the PIN and further protect your device from attacks. Like the Ledger Nano X, the Trezor Model T comes with a USB Type-C cable so you can connect to your cellphone or desktop computer.
The Model T allows you to access third-party exchanges like Changelly and Shapeshift directly in its website interface. While this is quite convenient, it hardly justifies its more expensive price of $159.
KeepKey Wallet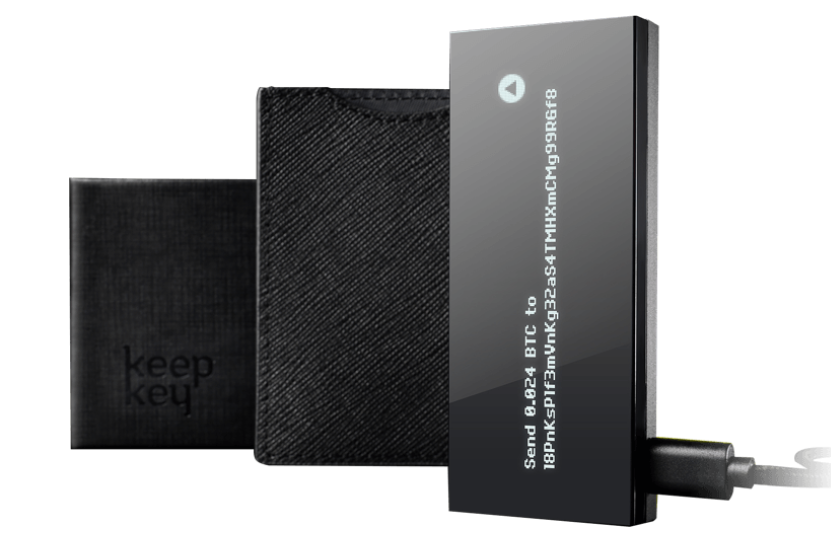 ShapeShift, founded in 2014 by Erik Voorhees, is located in Switzerland — with top secret offices in Denver. Voorhees was among the first wave of crypto entrepreneurs, seeing Bitcoin as a technology to separate money and state and to create a free society.
ShapeShift's KeepKey was one of the first hardware wallets and remains a popular choice. The KeepKey was considered a premium option at launch, but now retails for $49. Although dated, the KeepKey wallet's combination of features and low price make it a worthwhile budget option. The KeepKey is a simple hardware wallet with a premium design and feel. Designed to be easily accessible, KeepKey's built-in ShapeShift functionality allows you to store most popular cryptocurrencies in cold storage and exchange assets directly on the device.
Compared to other hardware wallets, the KeepKey is on the large side, measuring 1.5 inches x 3.68 inches x.48 inches and weighing about 2 ounces. It is more than twice the size of its major competitors, the Ledger Nano S and Trezor One — making it rather less portable. However, the KeepKey's bulk means it can accommodate a relatively large 3.12 inch OLED display.
As one of the cheapest hardware wallets, the KeepKey is cost-effective, particularly if you don't need top-end features. The KeepKey is one of the simplest wallets, making it suitable if you want to skip the learning curve but still benefit from the security that comes with cold storage.
The KeepKey supports Bitcoin, Ethereum, Litecoin, Namecoin, Dogecoin, Dash, and Testnet. It works on the PC, Mac, Linux, and Android. Since KeepKey is a USB HID-class device, like a typical mouse or keyboard, drivers are not required. You just plug in the provided USB cable. During initialization, you are given the one-time opportunity to write down a backup of your KeepKey in the form of a 12-word recovery sentence. If your KeepKey is lost or stolen, you can safely recover your device and its bitcoins without compromising the security of your private keys. Most of its specifications are almost identical to those of Trezor. The main thing that differentiates them is KeepKey's elegant and sophisticated design.