IMF Head Cryptocurrencies To Challenge Fiat Central Banks May Consider Adding To SDR Basket In Future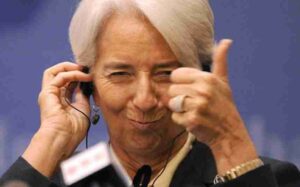 Christine Lagarde, the Director of the International Monetary Fund (IMF), has stated she believes that cryptocurrencies like Bitcoin may give "existing currencies and monetary policy a run for their money," and could potentially even be included in the IMF's SDR (Special Drawing Rights) basket of currencies in the future.
Bitcoin "puts a question mark on the fractional banking model we know today."
Speaking at a Bank of England conference, IMF chief Lagarde told attendees that she thinks "it may not be wise to dismiss virtual currencies."
She further outlined several possible scenarios in which a country with "weak institutions and unstable national currencies" might actually embrace digital currency.
Lagarde asked the audience, "How will FinTech change central banking over the next generation?" acknowledging three key topics: virtual currency, new models of financial intermediation, and integration of artificial intelligence.
"Instead of adopting the currency of another country – such as the U.S. dollar – some of these economies might see a growing use of virtual currencies. Call it dollarization 2.0," Lagarde stated.
Lagarde is right; already one single satoshi is worth 1 bolivar a currency used by 30 million people.
The smallest unit of Bitcoin (0.00000001 BTC) is worth 1 bolivar, a currency used by 30 million people.

— Francis Pouliot (@francispouliot_) September 28, 2017
One of the main driving forces behind that evolution in society would be a free market shift in consumer preference for new currencies that are "easier and safer" to use than existing fiat which is facing a growing number of financial hack attacks against banks and businesses. She further said that cryptocurrency adoption could be further accelerated if they "actually become more stable," she said.
"So in many ways, virtual currencies might just give existing currencies and monetary policy a run for their money. The best response by central bankers is to continue running effective monetary policy, while being open to fresh ideas and new demands, as economies evolve," Lagarde added.
However, she says that modernizing use of cryptocurrency is a distant prospect, stating that cryptocurrencies are "too volatile, too risky, too energy intensive and because the underlying technologies are not yet scalable." But that in the future cryptocurrencies could be added t0 the IMF's international reserve assets basket of currencies.
"The special drawing right invented a few decades ago, might have a future interesting life if we include a digital dimension and some new technologies with it," especially when existing networks are threatened.
On the coupling of digital currencies and the SDR, Lagarde further expressed, "If the two were to come together, the digital acceleration and facilitation and the geopolitical situation, that would be propitious to relying on an alternative basket of currencies," adding that, rather than becoming a substitute for national currencies, "we would need the two together."
Currently, the SDR basket is made up of USD, GBP, EUR, JPY, and CNY.
China announced last year with the blessing of the IMF that it was "ready to release a digital asset," which Lagarde added that "virtual currencies are extremely beneficial."
Shortly after the Shanghai meeting with Russia, China's Central Bank – People's Bank of China – tested a national Chinese digital currency.
If implemented it would be introduced alongside China's primary currency the Renminbi (Yuan). China simulated possible economic scenarios and ran mock transactions using the cryptocurrency with some of its commercial banks. The cryptocurrency of any nation would become known as a fiat cryptocurrency as the Reserve Bank of India (RBI) has said. India has previously announced that the country is working on the digitization of the Rupee, which with Ripple building an office in India we could soon see the implementation of Ripple into India's economy pushing blockchain-powered payments.
Meanwhile, the IMF continues to promote what it calls "a balanced approach to digital currency regulation" urging regulators last month to "step up" to regulate cryptocurrency.
In its early 2016 staff paper, the IMF stated the central bank considers distributed ledgers to have the capability to revolutionize the financial sector through cost reduction and deeper financial inclusion in the long term.
Earlier this year the IMF released a report that provided a detailed analysis of cryptocurrency technology, and the potential implications that it may have for lawmakers, governments, and financial institutions who will seek to regulate the FinTech.
Bitcoin is currently trading at [FIAT: $4,446.52] at the time of this writing according to Coin Market Cap.
Want an edge in the crypto markets? Subscribe to our free newsletter. Follow Coinivore on Facebook, at Twitter and Steemit.