South Korean Government Prepares to Tax Bitcoin And Altcoin Use
Posted On October 18, 2017
---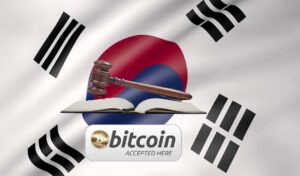 The South Korean government is preparing to tax Bitcoin use after the cryptocurrency's trading volume largely increased past the country's stock exchange Kosdaq. Han Seung-hee, the commissioner of the country's National Tax Service, told lawmakers this weekend that the issue of how to best tax cryptocurrencies is being discussed, including the areas of capital gains tax, the VAT, and gift tax, Bitcoin.com reported.
South Korea's lawmakers held a National Tax Service (NTS) hearing in Sejong last week on October 13th. The NTS Commissioner Han Seung-hee answered several questions about the taxation of cryptocurrencies.
Seung-hee was asked, "as the daily transaction value of virtual money grows beyond the Kosdaq, we must actively cope with the shift away from the conventional reservations. What is the taxation plan?" Business Post reported.
"I am still taxing business income, and I am discussing whether to tax the value-added tax or capital gains tax with regard to virtual currencies such as Bitcoin,"Seung-hee said.
According to Seung-hee, his department is currently discussing the VAT and capital gains tax issues with the Ministry of Strategy and Finance. Additionally, he stated that "the gift tax will be reviewed as it needs to be supplemented," the publication wrote. The Commissioner further pointed out that the use of Bitcoin may lead to "gift tax evasion," therefore valuations methods need to be implemented with respect to the taxation of cryptocurrency gifts.
In the meantime, he confirmed that "we are currently monitoring the status of the cryptocurrency transactions and will move forward quickly."
Seung-hee also mentioned that "the United States is actively responding to the taxation of virtual money as an asset" and profits from their transactions are taxed. "We have to be proactive like the United States and Japan."
Recently, South Korea has been working on its regulatory framework for digital currencies. In August, a "Bitcoin Regulation Act" was submitted by lawmaker Park Yong-jin but no action has been taken on the proposal.
In the September the financial regulators came up with some several regulatory measures including making cryptocurrency exchanges implement stricter verification processes, Bitcoin.com reported.
This also comes as South Korea announced an official ban to all future and current ICOs (Initial Coin Offerings) at the end of September.
In April of last year, South Korea introduced a new program enabling corporations to allow their customers to load their loose change from small purchases onto prepaid cards. So the country is definitely moving towards abolition of fiat cash; even a Bank of Korea official, Cha Hyeon-jin, said he believes "that the move to go coinless could possibly lead to a "cashless society" reported Yonhaup news agency.
Bitcoin is currently trading at [FIAT: $5,291.56] at the time of this report according to Coin Market Cap.
Want an edge in the crypto markets? Subscribe to our free newsletter. Follow Coinivore on Facebook, at Twitter and Steemit.
---
You may also like