American Companies onG and CEEK Become First Cryptocurrencies To Sponsor Olympic Athlete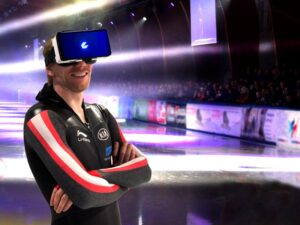 The CEOs of onG Social and CEEK have partnered together to become the first cryptocurrency businesses in history to sponsor a sports athlete. But not just any athlete, an Olympian Canadian speed skater Ted-Jan Bloemen, National Post reported.
onG a new social network with a cross-posting social hub dashboard and CEEK an existing VR (virtual reality) company both recently decided to take their American businesses to the blockchain. In doing so, they have taken a risk on the new financial technology industry.
Bloemen signed a unique, one-year sponsorship deal with the two companies to be paid in part by the two cryptocurrencies.
CEEK CEO Mary Spio and onG Social CEO Christopher Kramer said they believe Bloemen is the first athlete to accept sponsorship payment in crypto.
"We did a minimum amount in cash, but most in cryptocurrencies," Bloemen told National Post. "For me, the real risk of not getting anything is not there, because I got a little (cash) out of it already. And that combination makes this sponsorship really fun, right. Because we're going to help each other. I'm trying to get them a little more exposure to make them succeed, and that would help all of us, right."
ONG already has coins for sale selling on Etherdelta and Qryptos, while CEEK will issue its tokens publicly in March and is currently in the midst of a crowdsale ICO. Although, CEEK is restricted in the presale to only accredited U.S. investors and anyone else in the world.
Meanwhile, onG is planning on releasing a closed beta of the blockchain social network hub in March that will eventually transition into an open beta. You can sign up to the beta (here.)
The CEEK award-winning app is currently available on Android and IOS as well as the VR headsets are purchasable on Amazon, Best Buy, and Target for roughly $80 – $100.
CEEK is partnered with Universal Music Group, Apple, Oculus, T-mobile, Baptist Health, and a growing number of companies. You can read more about CEEK their partnerships and roadmap on their whitepaper available (here.)
onG.Social's CEO, Christopher Kramer, is heavily involved in CEEK being the project's blockchain engineer and the two companies are partners. onG will have a virtual reality hangout within CEEK City when the blockchain version of the product is rolled out, according to a Medium post.
"He's an exceptional athlete who is well positioned to go for the gold," onG CEO Christopher Kramer said. "We looked at who he was and at his accomplishments and decided this would be a good thing to do."

"As the VR Entertainment and VR Education market leader, we are thrilled to partner with Speed Skating's category leader, world record holder Ted-Jan Bloemen. His support for cutting-edge technologies is reflective of his proclivity for pushing the boundaries. We believe Virtual Reality isn't just great for our audience (Ceekers) but will ultimately be used for training and maximizing player performance and potential,"
–Mary Spio, CEO and Founder, CEEK VR, Inc said.
The sponsorship deal involves Bloemen wearing ONG Social's logo on his racing suit and podium jacket during at least two events after the Olympics and creating a unique skating 360 experience within CEEK VR. Bloemen will also be sharing his journey on onG.Social with all of onG's users and in turn bringing new users to onG.
"Speed skating success is all about progression – building and building to peak at the right time. I'm excited to step into the future with ONG and CEEK. Their progressive approach to social media and VR paired with crypto currencies bring a whole new perspective. A perspective that, I believe, has a lot of potential! I feel like I just got two new teammates to help put me over the top, at the most important point in the season,"
–Ted-Jan Bloemen, Canadian National Team Speed Skater, Double World Record Holder said.
It's a huge move for two established American companies to move to the blockchain partner together and then sponsor an athlete, which to this writer's knowledge has not happened yet in this new space in its early infancy. The future looks bright for cryptocurrency despite the FUD pulling down the market.
CEEK is currently in ICO phase and can be purchased at Tokenlot (here) while onG is trading at [FIAT: $0.421884] as onG prepares for a closed beta next month, according to Coin Market Cap at the time of this report. Bitcoin is currently trading at [FIAT: $8,120.20].
In a spirit of transparency, this author has holdings of onG and CEEK and is heavily invested with his time in both projects helping to make sure they are both successes working in both telegrams, writing PR (like this one), pitching ideas and working on the marketing team under Alex Laserev.
Want an edge in the crypto markets? Subscribe to our free newsletter. Follow Coinivore on Facebook, at Twitter and Steemit.