U.S. Lawmaker Warren Davidson Thinks ICOs Need A "Light Touch" Of Regulation
---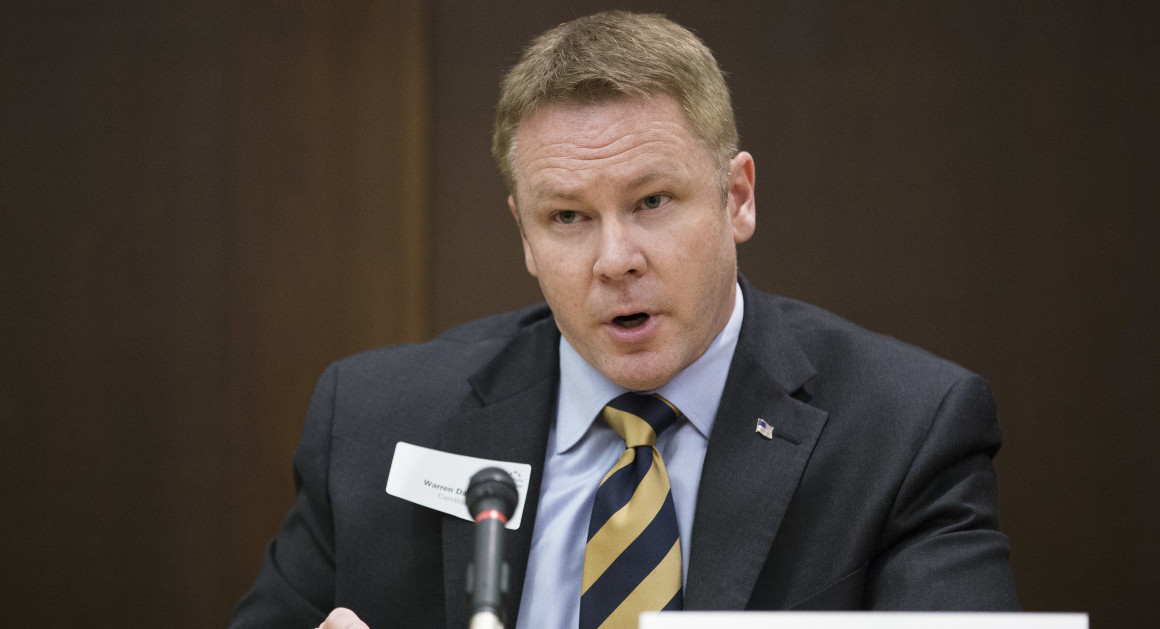 U.S Rep. Warren Davidson (R-OH) has stated he wants a "light touch" regulatory framework for initial coin offering (ICO) markets during a CNBC  "Squawk Box" interview. Davidson is a member of the House Financial Services Committee of the House of Representatives.
"We want to make sure that the United States' capital markets stay strong and vibrant, and one of the ways to do that is provide regulatory certainty," he said of the ICO fundraising industry.
Davidson further stated that government officials have worked with people in the cryptocurrency industry, including regulators, to determine how regulations should be drafted. He did not expand and go into detail on what ICO regulations would require. However, the law maker said there is a need to protect consumers and at the same time allow the market to continue to offer the benefits of distributed ledger technology (DLT) and not distill innovation.
Despite his light approach to regulation Davidson says that regulators must protect consumers from rampant fraud.
"There has been fraud in the markets," he said. "We have to protect consumers."
"Right now there's a concern that there's regulatory arbitrage going on, where launching an initial public offering is more complicated and expensive, and essentially companies are doing white papers instead of securities offerings, and they are essentially selling securities," he added. This has driven concern about fraud, he said.
The Swiss have put a framework in place that has provided "certainties" for ICOs, Davidson said, referring to the guidelines the Swiss financial authority (FINMA) issued on Feb. 16, 2018, clarifying how the country's laws make ICO compliance less burdensome.
In the U.S., Davidson said, there is a concern about a "disparate patchwork of court rulings that doesn't provide a coherent whole."
"We want to protect that market," Davidson said. "Blockchain is truly transformative, perhaps in a way the Internet was, in terms of how the distributed ledger can be applied to a broad range of technologies. And so that's why you don't really know when somebody does an initial coin offering whether they're really launching this great distributed ledger project that is going to be a security or if it looks a little different, like Ether and bitcoin have been determined to be, essentially commodities."
One challenge in regulating ICOs and cryptocurrencies is whether they should be regulated as commodities or securities or a whole new asset class in their own.
Davidson noted that the SEC last week said ether is considered a commodity and not a security. He was referring to William Hinman, director of the SEC's division of corporate finance, who stated on June 14th that Ethereum, as it is presently structured, is not a security according to federal guidelines, and will therefore not be regulated as a security, Coinivore reported.
When Davidson was asked about cryptocurrency being used for illicit illegal purposes, Davidson said there is a perception that cryptocurrency is untraceable, but in reality, it is more traceable than cash.
Cases such as Mt. Gox that have been "solved" have shown that transactions can be traced, Davidson said, emphasizing that traceability can be incorporated into cryptocurrencies.
When he was questioned at what point the amount of cryptocurrency expands beyond visible markets becomes a systemic concern, Davidson said the market is currently "pretty small" at half a trillion dollars. He said most cryptocurrencies are not trying to be currencies but are simply just a means of digital exchange.
He added that cryptocurrencies provide benefits over traditional existing securities.
Earlier this month the (SEC) Securities and Exchange Commission created a new senior advisory position (Senior Advisor for Digital Assets) appointing Valerie A. Szczepanik to oversee securities regulation of the crypto sphere in the U.S.
Szczepanik will be in charge of  "coordinating efforts across all SEC Divisions and Offices regarding the application of U.S. securities laws to emerging digital asset technologies and innovations, including Initial Coin Offerings (ICOs) and cryptocurrencies."
SEC head Jay Clayton, who recently stated that "Cryptocurrencies that are replacements for sovereign currencies, replace the dollar, the euro, the yen with bitcoin are not a security," praised Szczepanik, expressing she was "the right person to coordinate our efforts in this dynamic area that has both promise and risk."
CFTC Commissioner, Rostin Behnam has also expressed that cryptocurrency should have light regulation and recently stated: "this technology isn't going away."
"Virtual currencies may – will – become part of the economic practices of any country, anywhere.  Let me repeat that: these currencies are not going away and they will proliferate to every economy and every part of the planet. Some places, small economies, may become dependent on virtual assets for survival.  And, these currencies will be outside traditional monetary intermediaries, like government, banks, investors, ministries, or international organizations. We are witnessing a technological revolution. Perhaps we are witnessing a modern miracle."
Despite this, the SEC continues to raise its own concerns about ICOs, conducting a sweeping probe in February earlier this year in which the agency issued subpoenas to force the closure of a number of what it deemed to be "unregistered securities" in the ICO space. Granted, some of them did turn out to be scams.
Curiously as Coinivore reported, cryptocurrency brokerage giant Coinbase recently announced that it was "on track" to register with the U.S. Securities and Exchange Commission (SEC) as a broker-dealer, a move which would allow the company to list crypto assets that the agency deems to be securities. So this may just be a tell-tale sign of more forced registrations to come.
Bitcoin is currently trading at [FIAT: $6,157.92] down -3.56% according to Coin Market Cap at the time of this report.
Want an edge in the crypto markets? Subscribe to our free newsletter. Follow Coinivore on Facebook, at Twitter and Steemit.
---
You may also like